Note:  there are quite a lot of photos in this blog post - if this doesn't load properly, try
this link to view the post online
.
If you'll recall, the tagline to this blog is "Plans to Enjoy Life". 
So here's a plan for visiting Joshua Tree National Park when staying in greater Palm Springs.   
We've enjoyed roughly this same approx. 6 hour roundtrip itinerary 3 different times, twice in the heat of the desert summer in July of 2020, and once just now in the perfection of April. 
This itinerary (and the entire park) is without question
Diamond-Certified
, and it frankly deserves less trite superlatives.  I hope you have an opportunity to spend a morning as we do in one of America's true treasures,
Joshua Tree National Park
.  Here's
a PDF map
of this wonderland.
1. We depart the Palm Springs area at a time such that we arrive at the southern entrance to the park right at sunrise, on weekdays only.  This past Monday, that meant alarms and coffee at 5AM, and a departure at 5:30, as it's about an hour drive from the greater PS area.   If that's too early, that's a shame because you're missing out.  Bring water and maybe energy bars for a light breakfast.  Via I-10 and exit 168, it'll be obvious how to enter the park. 
2.  It's now sunrise - we have a convertible, so we pull off the road briefly to drop the top.  I mention the convertible to brag, but also to suggest considering renting one yourself if you're flying in.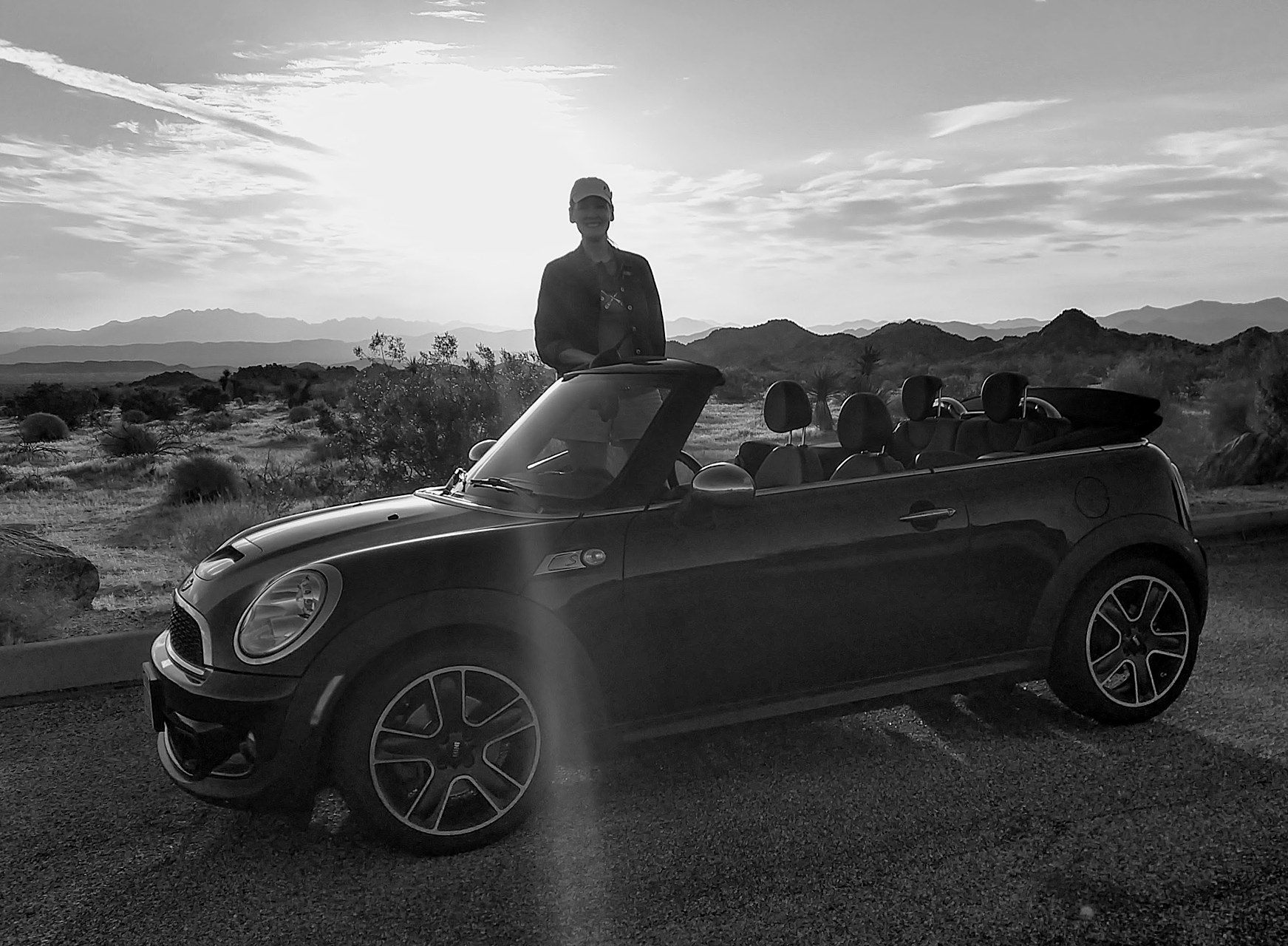 3.  The road through the park at this time of day is essentially deserted (haha), so it's like a miles-long amusement park ride that you're controlling.  But note that there's no cell service inside most of the park (another reason to love this place), so for safety, we like to go with others in another car and stay together.  This is especially true in the summer, as even at 10AM, it's starting to get dangerously hot, at least if you had to get out of your car and start walking it.
4.  You'll marvel at the dawn vistas, but avoid the temptation to stop until you reach stop #1 of this itinerary,  The Cholla Cactus Garden.  It's a gorgeous short walk on a trail intended to keep you from getting near the cacti - even a light brush against one is very painful.  But the cacti and the garden are starkly beautiful, without a doubt.  By now,  you're understanding just how vast a place really can be - which is a singular part of Joshua Tree's magic.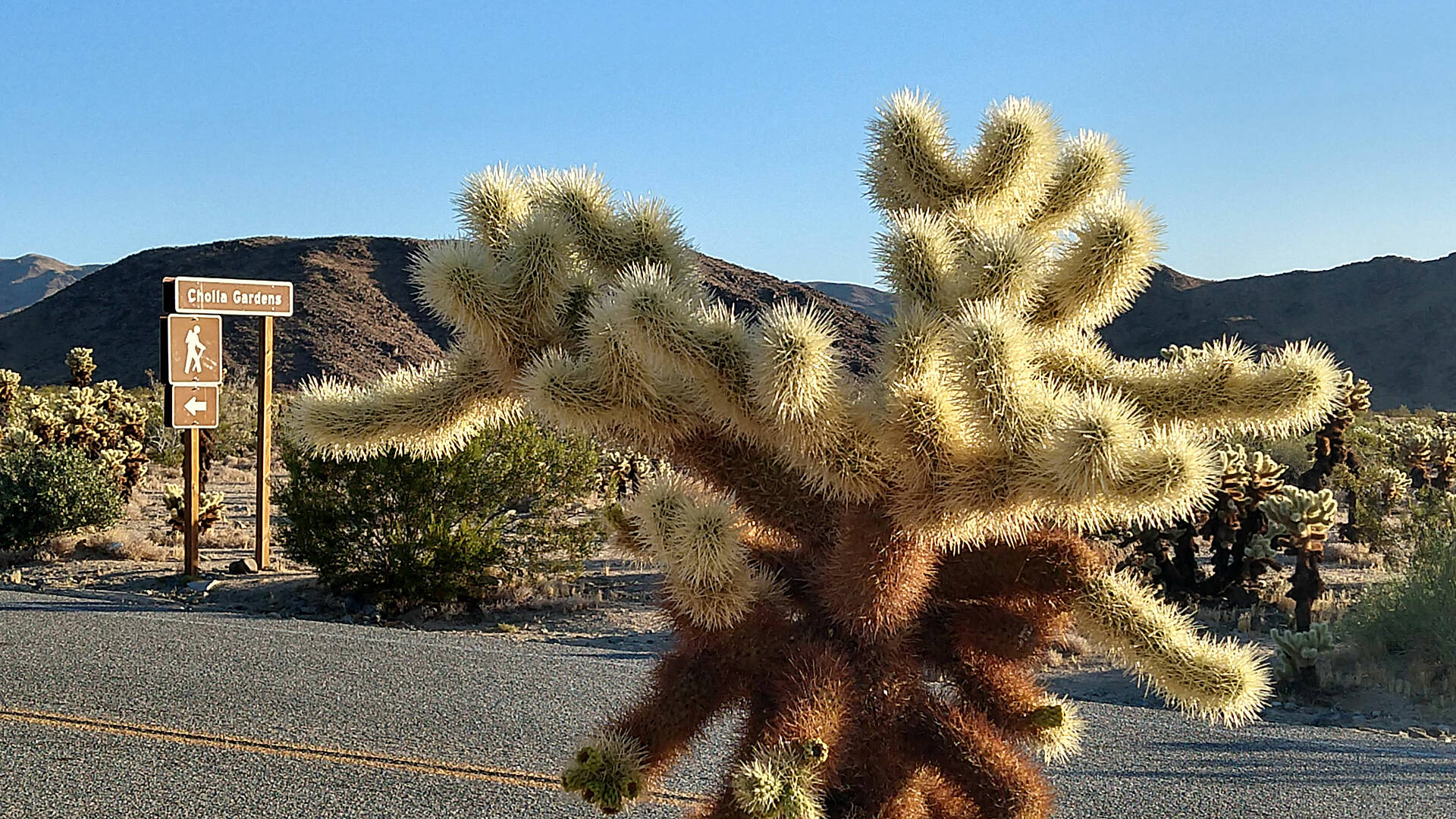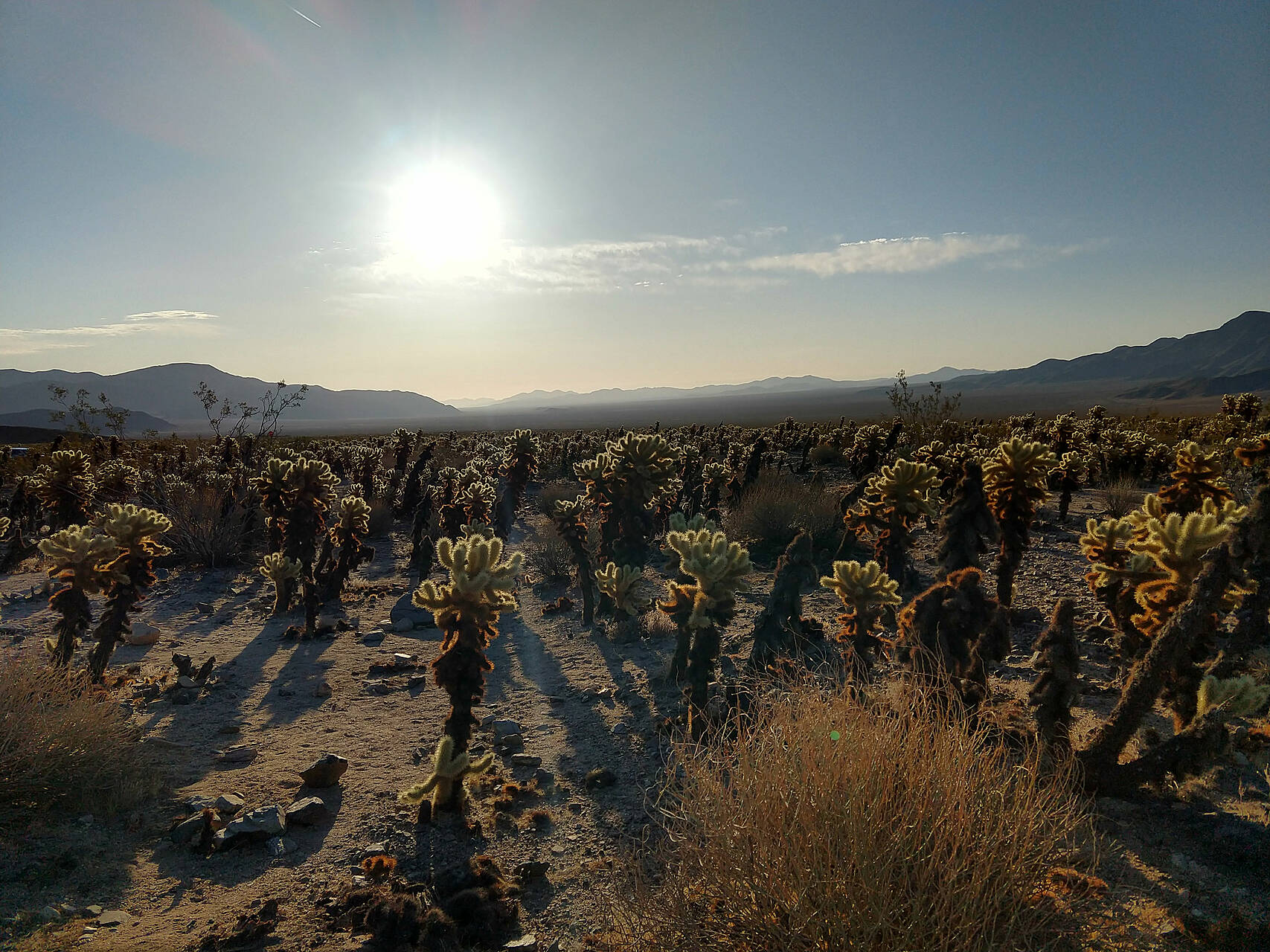 5.  Jump in your car and now head to Skull Rock.  Yes, it does indeed look like a skull.  It's a fun photo spot and the short hike to the Jumbo Rock campground is a nice add-on if you're so inclined and you like Mars.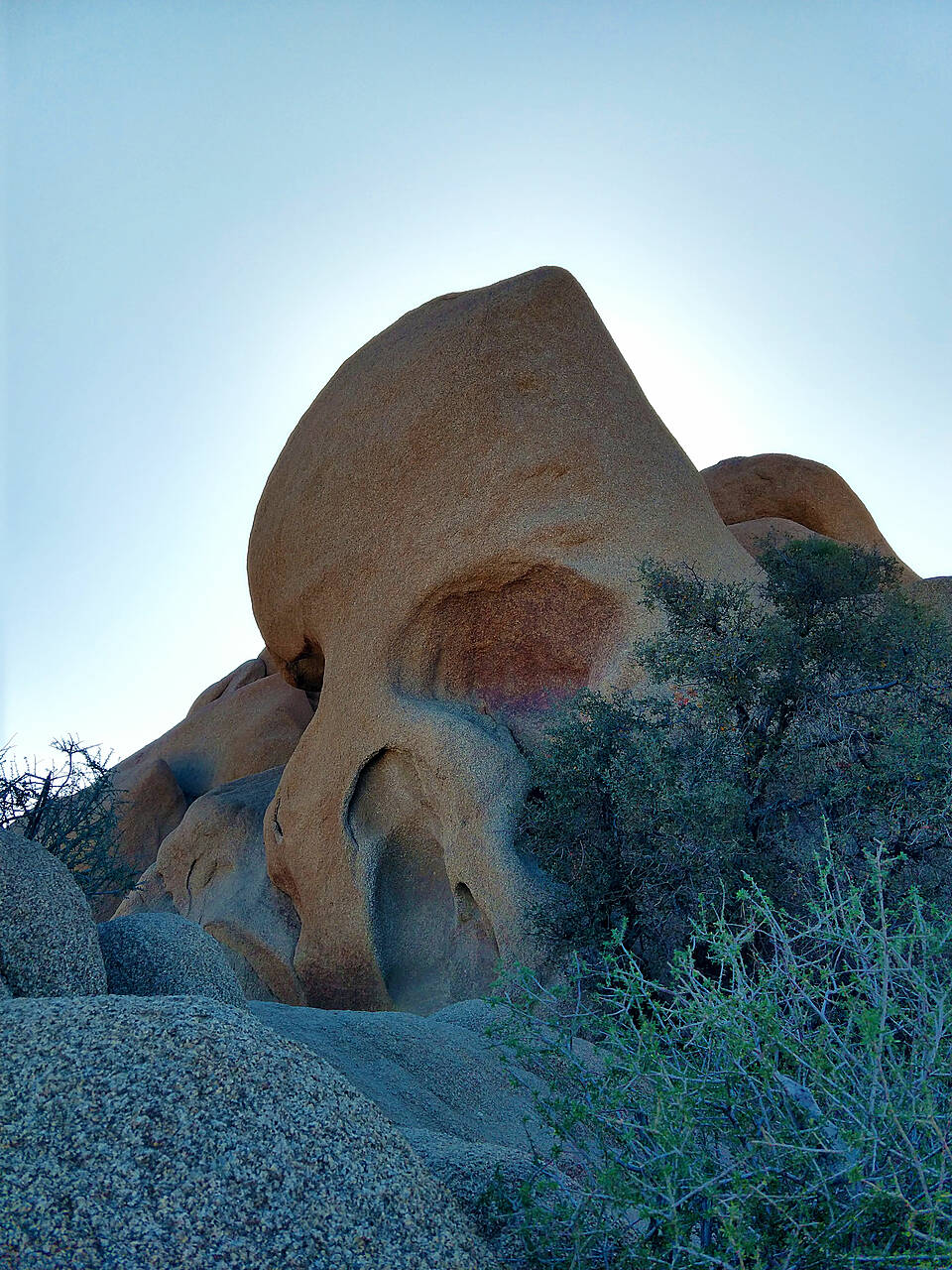 6.  Next, the nice cruise way up to Keys View.  The view from the top will give you perspective on the park's relationship to the rest of the Coachella Valley.  Here's the always sporty & stylish Louise Lederhosen at the site's placard.  All of Coachella Valley - Palm Springs, Cathedral City, Rancho Mirage, Palm Desert, Indio, La Quinta and a whole shit-ton of retirees and windmills - lies below.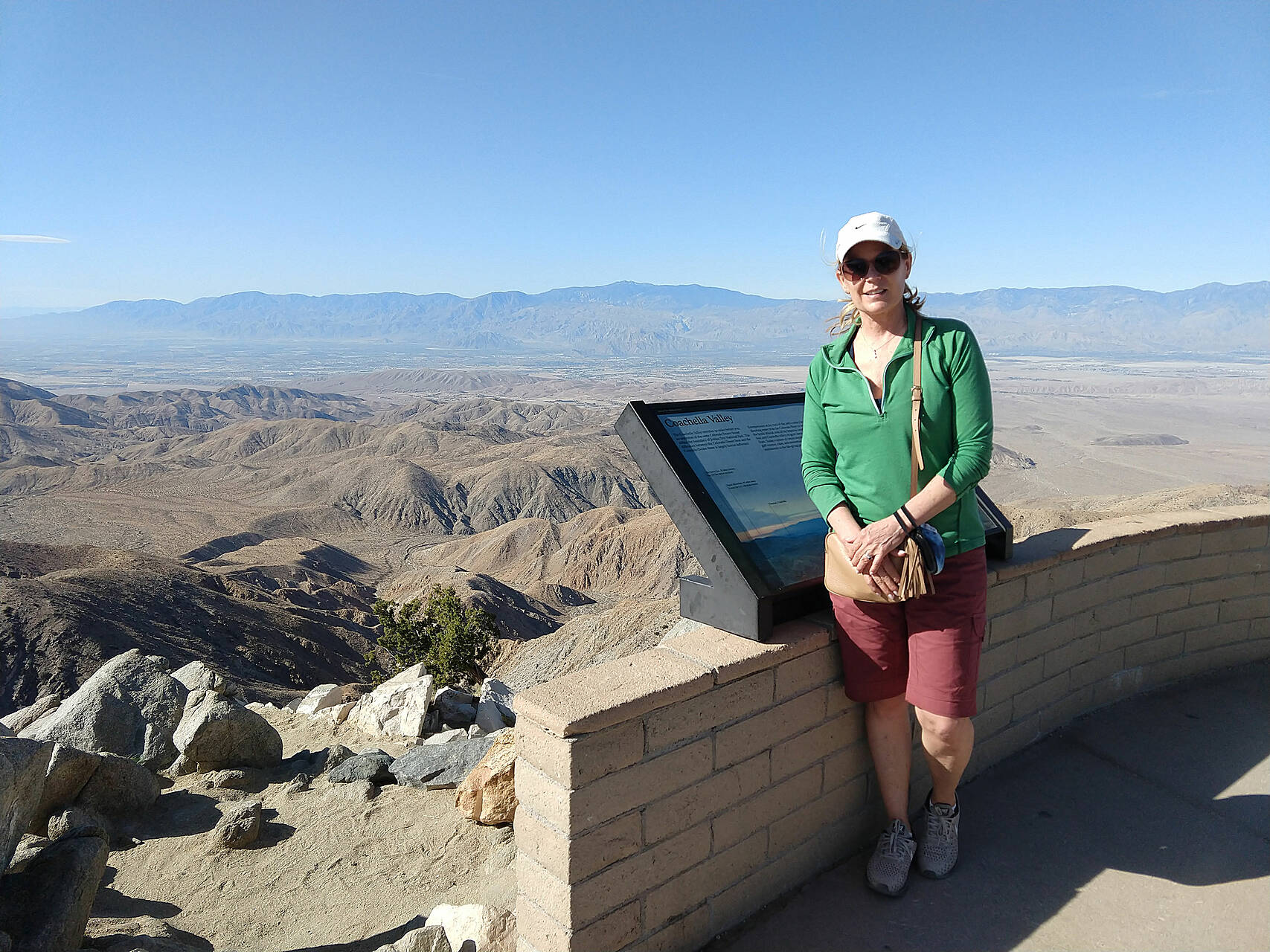 7.  Back in the car to your last stop, the easy roundtrip hike to Barker Dam.   The dam, built in the early 20th century by cattlemen to water their herds, and now a ruin, still gathers life-giving water in an otherwise thirsty place.  It borders on oasis-like when you get to the actual dam, and thus attracts a variety of wildlife, including the occasional misbehaving yahoo.
Where are the Joshua Trees after which the park and
album
were named?  They begin to pop up after the Cholla Cactus Garden, and soon, as you'll see,
these natural wonders
are everywhere for the rest of your visit.  
8.  You're finished - head out the West Entrance, perhaps with a stop at the charming Visitor Center to get your National Park passport stamped.  Try to ignore the gruesome sprawl/strip mall awfulness on the drive on Hwy 62, and instead envision the upcoming proper luncheon at the pool.
There is, of course, so much more to a park of this size and variety than what I cover here.  Camping, stargazing and real hiking come immediately to mind.  But for a quick, approximately 6 hour start-to-finish visit, with no crowds, to a prime National Park, this is a great way to do it, and I hope you'll give it a go.