(Editor's note:  there are a ton of photos in this one.  You might wish to read this
here
if it's slow to load and/or if it seems like some photos are missing).
OVERVIEW
Let me be clear right up front:  I have no idea what the hell Lake Como is like, but I don't know how in the world it could be more absolutely stunning than Lake Garda, in northern Italy.
Located north of Verona (itself a great, under-the-radar Italian city, BTW), for 6 days and 5 nights we mostly stared, slack-jawed, at what I deem the finest alpine lake I've personally seen.  It's a HUGE, very clean fresh water lake surrounded by the towering foothills of The Dolomites.  Yes, it's true, and the pictures don't even begin to capture the majesty of the place.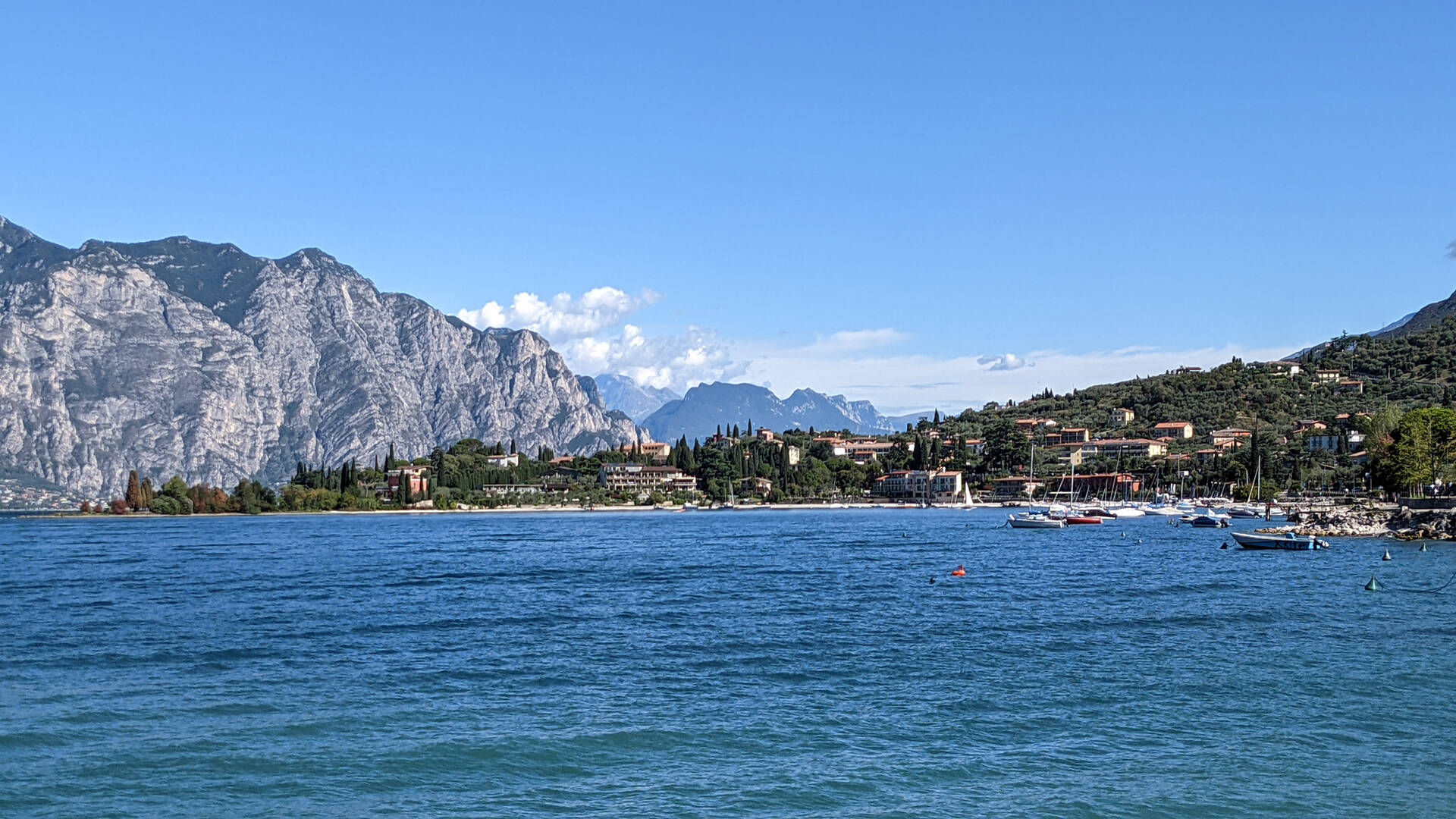 But alas, there's trouble in paradise.  For one, getting there is not particularly easy.  We took an hour train ride from Milan to Verona, and then we had a car pick us up for the hour + (and 100 EUR) ride to our destination, a hotel outside of the village of Malcesine on the northeastern shore of the lake.
The far bigger problem is the aforementioned beauty - it is so special here that the region seemingly attracts every European tourist yahoo on the continent.  Suffice to say Malcesine and Limone (a similarly charming Italian village on the western shore that we visited) bring to life Yogi Berra's famous dictum:  "These places are so popular, no one goes there any more".  Picture Fisherman's Wharf in SF in summer, but with much better scenery and food, and you're close.  And we went in September, which is supposedly shoulder season.  Given the crush of cars and people we saw, I can't even fathom a trip there in the summer.  You've been warned.
But do you know what?  We didn't care and Lake Garda is without a doubt
Diamond Certified
.  We're already scheming a way to return sooner, rather than later.
LODGING
How can that be?  Well, it's because of our new hotel discovery,
Hotel Val di Sogno
, which is about a 20 minute stroll from Malcesine proper.  Diamond Certified?  You betcha. 
This is a small, luxurious hotel consisting of approximately 25 rooms.  Adults only.  No pets.  No outside guests allowed.  Impeccably groomed grounds.  Operating-room levels of cleanliness.  Frette linens.  In other words, perfect.  Doubt me?  Here's the view from our "Splendid Junior Suite".  Yeah, it was damned splendid.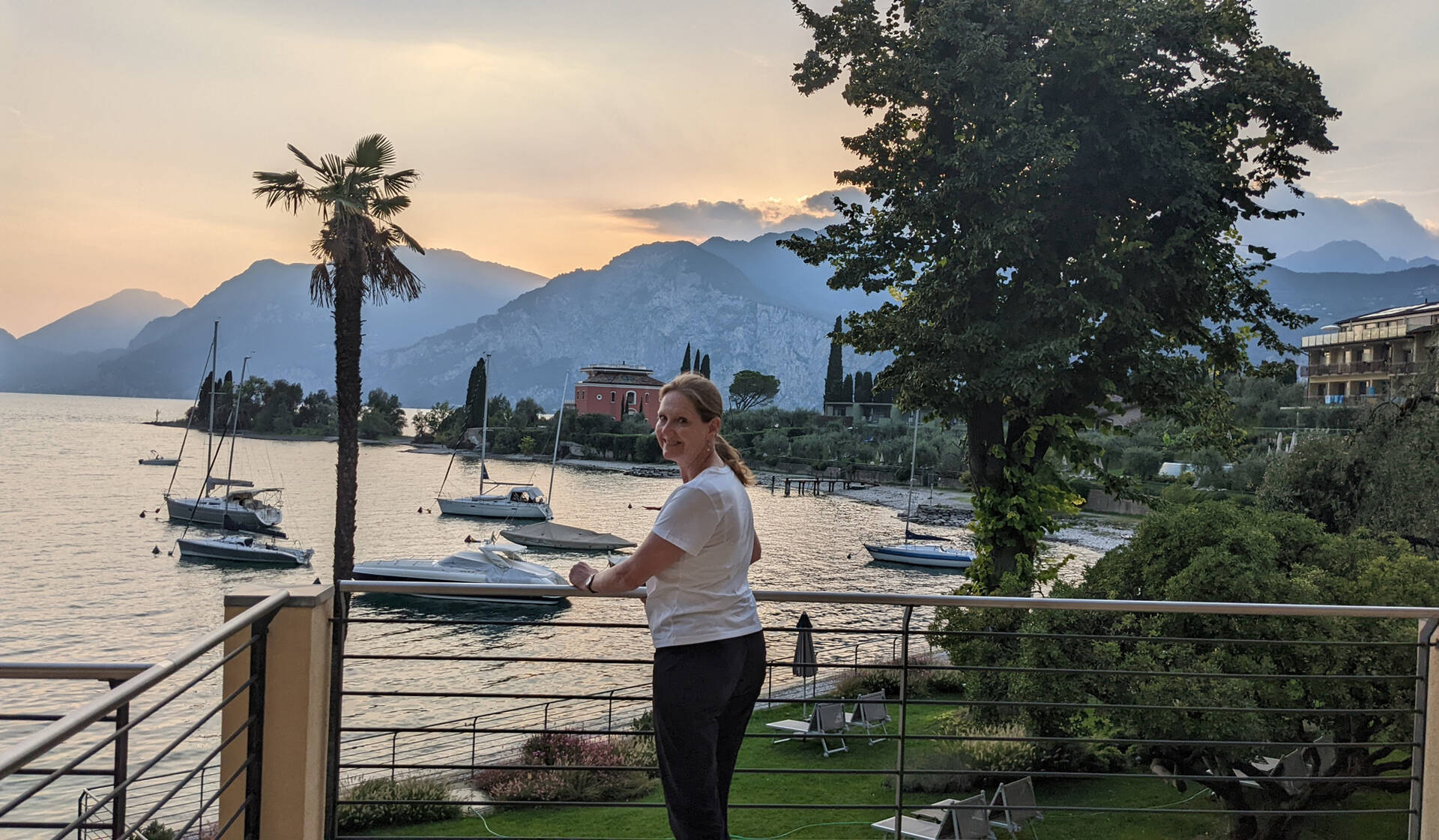 The hotel is family-operated, and it shows.  Every detail is attended to, and the service was flawless.  The hotel's breakfast buffet (included with the room) presentation was among the finest we've had, and the restaurant at lunch and dinner was akin to fine dining.  They also had excellent weissbier and they made Killer Negroni's - so suffice to say, I was happy.  Christ, there was even an f'ing swim-up bar.

Here's what the scene is like in the bar and restaurant.  Never crowded.  No chaos.  Always perfect.  The entire time.
And then there's swimming in the pristine lake and the pool, and with it, the attendant lounging on the comfy chairs on the lawn.  Suck it did not.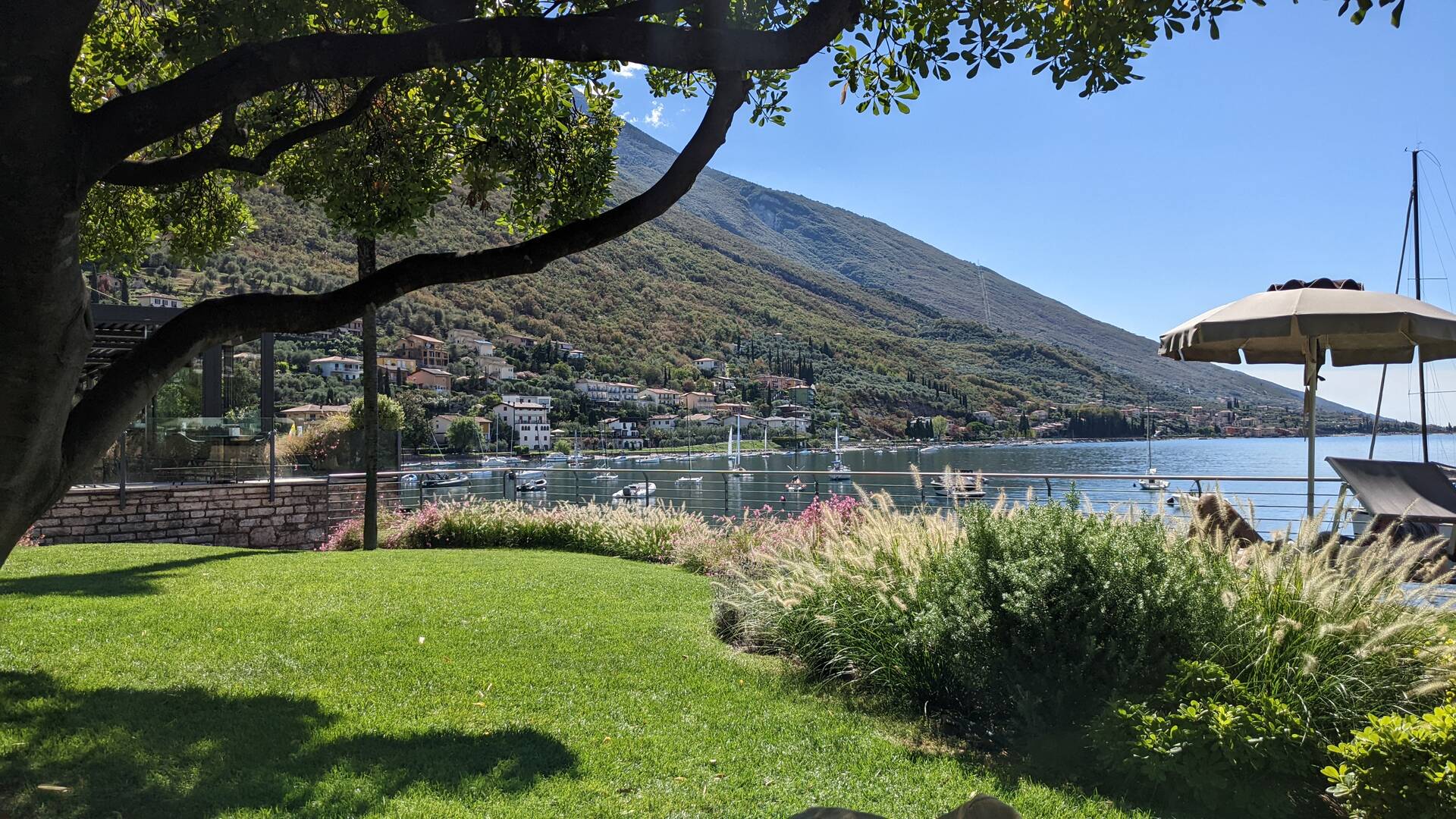 THE GREAT OUTDOORS
To be honest, without our bags and just relieved to be away from the steaming urbanity of Milan, we came quite close to pulling an
Adler Thermae
.  As in:  "I know we planned to go and do things,  but this place is so fucking chill, I'm doing nothing for the next 5 nights."  It is really that kind of place - especially when you see the tourist madness in the villages.
But alas, we had already booked and paid for two different outings:  taking the ferry Wednesday from Malcesine across Lake Garda to Limone and on to a swank lunch, and on Friday, a full-on tour of the Valpolicella wine region, with a private driver.
Also, having only my clunky but oh-so-cool Dr. Martens didn't help matters in terms of meaningful hikes.  I have never missed my beloved
Scarpa Mojitos
as much!
There were a ton of cyclists all over the place, but we did not see the appeal of navigating the traffic-clogged - and narrow, two lane road that circles the lake.  There is also
a tram to the top of Mount Baldo
, which we similarly blew off.  
Our only athletic outdoor activity apart from luxuriating on the sumptuous grounds at the hotel was a great Saturday morning hike (our bags arrived Friday, while we were wine tasting) we took out around the villa by our hotel (the pink place in the photo, above), and then into the not-insanely-packed town of Cassone.  Where I had a weissbier at the end of our hike.  Shocker.  
EATING/DRINKING
First, it must be noted that we had nothing but Killer lunches and dinners at Hotel Val di Sogno.  I could not have been more impressed by the quality and presentation each and every time.  Heck, even the margherita pizza we had poolside was excellent. 
But:  of course that wasn't enough.  Here's what we did - and what we'll do differently when we return.  I provide links where I can.
Feudo Bar

Textbook

Upon our arrival on Tuesday at the hotel, our belongings were still days away (!).  So we had a wonderful late lunch at Hotel Val di Sogno, and then took the very pleasant 20 minute stroll into Malcesine.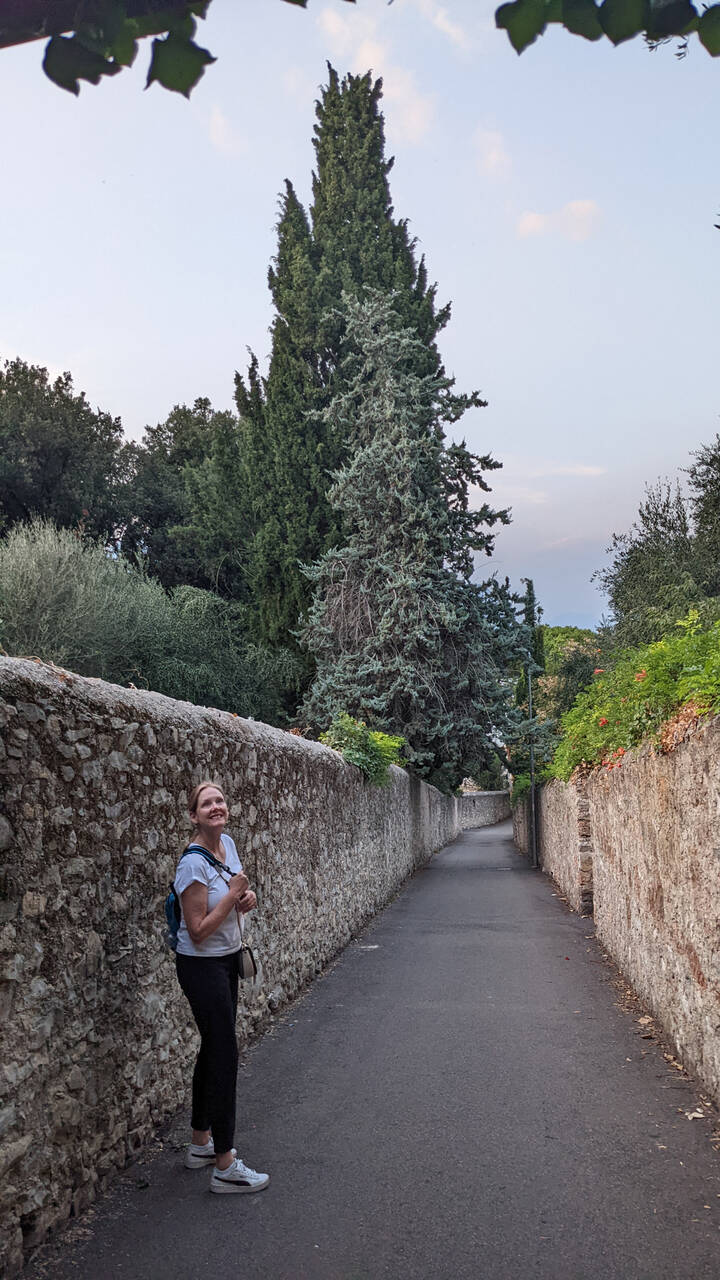 The town is out of a picture book, but the tourist hordes are from a movie:  a horror movie.  So we ducked into this place for some birra a la spina and yes, even piccolo Fernet shots.   They were cranking Billy Idol hits, so it all felt about right.
Ristorante Pizzeria Lido Sopri
Textbook
This place is directly on the lake and is set up for extended getting-wasted afternoons, what with the Hunter Deuce-style loungers all over the lawn.  Us?  We got there quite late on our first night, and we really enjoyed our pizza, shore-side.  Worth a stop if only for the view.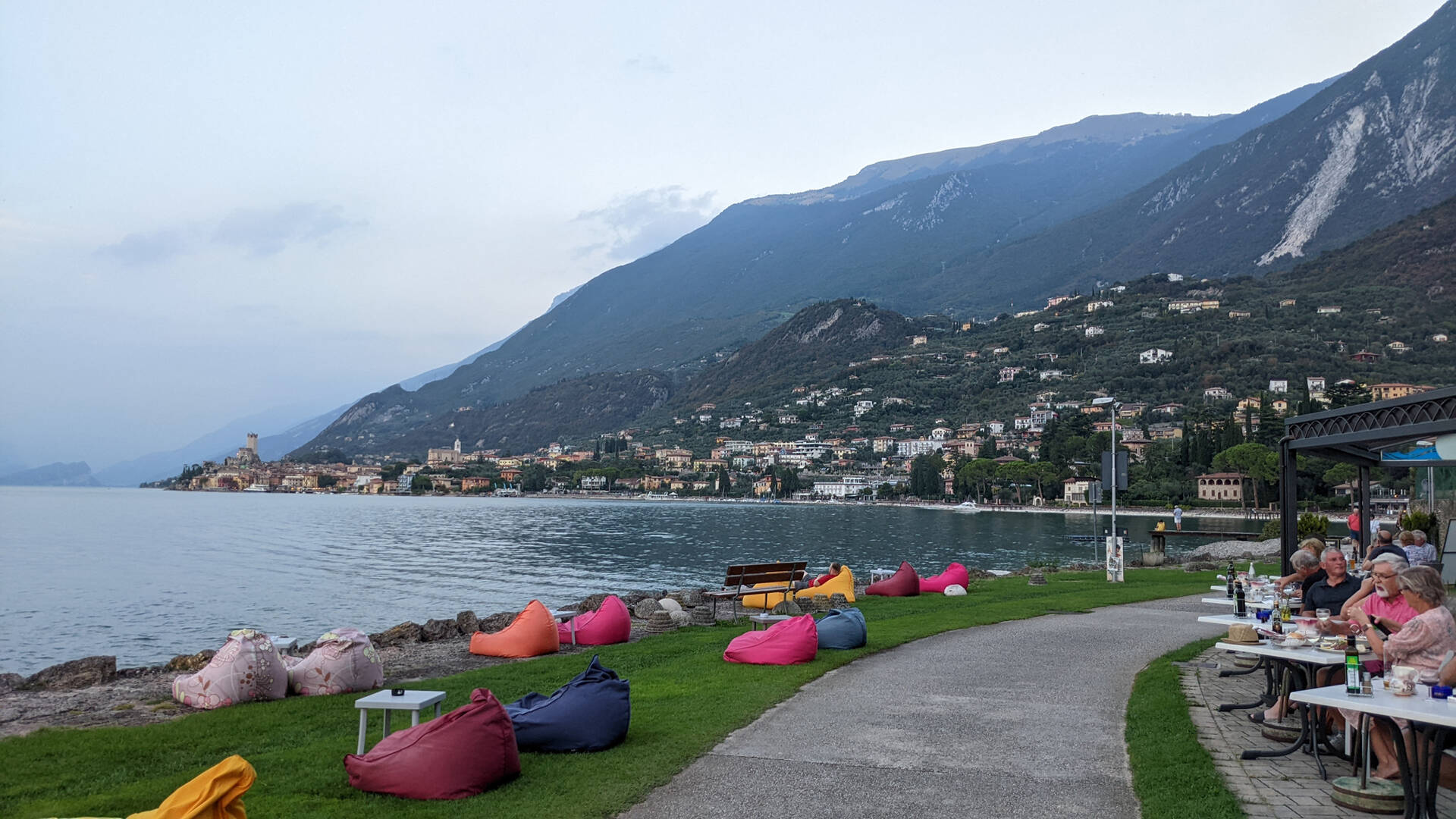 Alfio Ghezzi Bistrot @ EALA
Diamond Certified

Best meal of the trip thus far?  Yes, but oh my, was it awful getting there.  No, the ferry ride from Malcesine to Limone, while crowded, was sublime.  This was about half-way on the 30 minute ride, and that is Limone in the distance.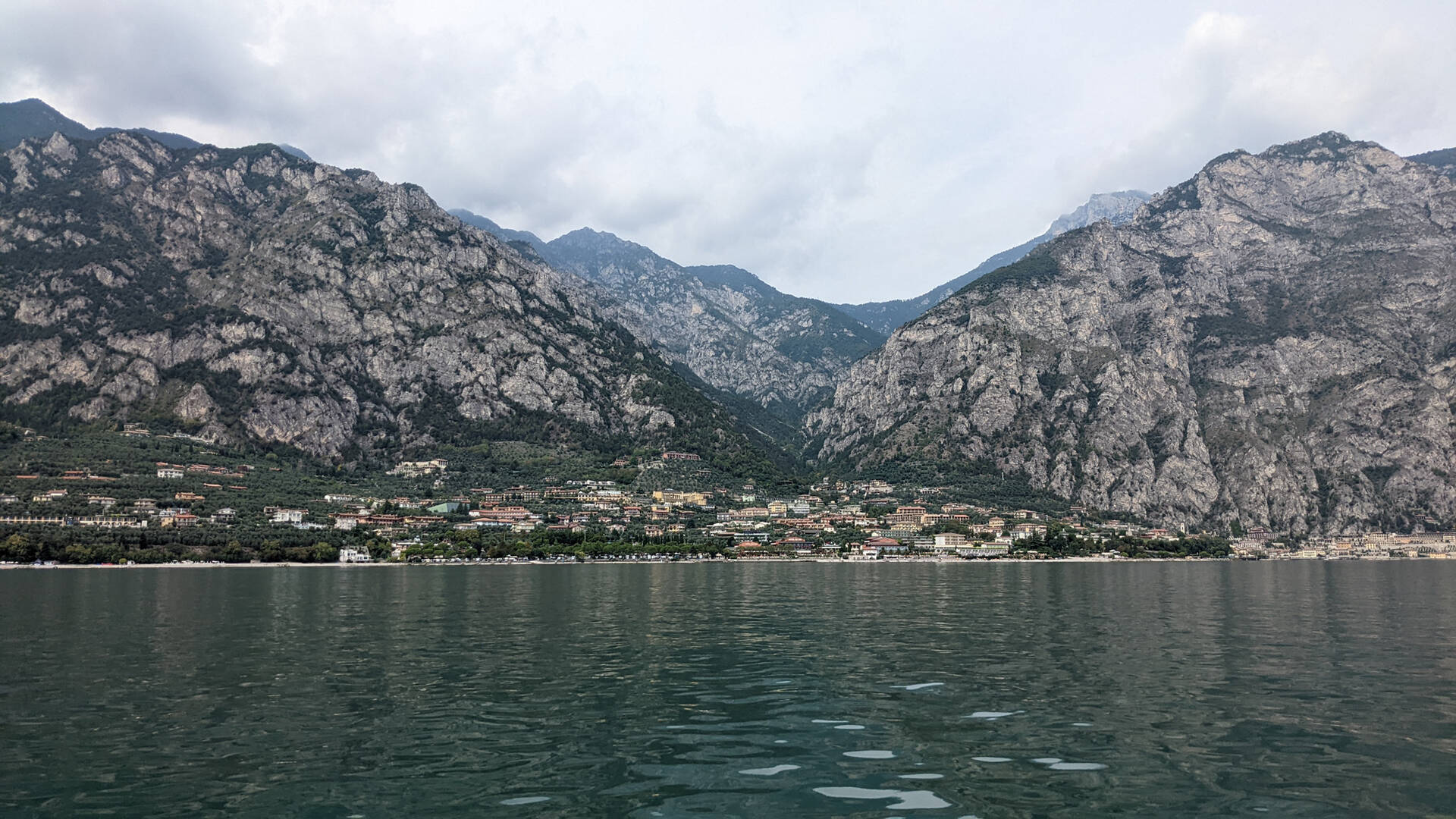 The problem was the walk to the restaurant from the ferry terminal.  Now, normally, a 1.5 mile walk is literally nothing for us.  Especially one along a beautiful pedestrian trail high above the water. 
But:  the weather had still not changed, and it was very hot, very humid, and my Dr. Marten's and black clothing from my flight were . . . not the right thing.  So Julie and I were literally dripping wet when we arrived.
And it's quite an image:  the restaurant and the hotel it's in are
really f'ing swank
- so much so that you don't just walk in, they buzz you in.   So picture two sweat-drenched tourists from America parading in to what is easily one of the nicest restaurants I've seen - click the link above if you don't believe me.
But do you know what?  The uber-cool Italianos that were working there couldn't have been more gracious.  They reassured us that they didn't care what we looked like, and then welcomed us to freshen up in the bathroom before sitting down.  They gave us what had to be among the best tables in the house, I swear they cranked the AC to help us cool down, and the rest was about as good as it gets, food-, service-, and ambience-wise. And they get bonus points for securing a taxi to whisk us directly home to Hotel Val di Sogno afterwards.  If you're going to have a special meal in Lake Garda, this is the place. 
And we know of what we speak, because . . .
Vecchia Malcesine
Killer

. . . I wish I hadn't booked dinner Thursday night at this 1 Michelin Star restaurant.  Huh?  Well, the view was amazing, but?  It wasn't particularly expensive, but I felt the chef was trying too hard to be innovative with every single course.  I know, I know - that's what a Michelin-starred restaurant is all about.  I guess the combo of the previous day's fine luncheon combined with the very high quality of the restaurant at Hotel Val di Sogno made me question us going here.  But we've made worse mistakes, this was the view from our table, and again, the place did nothing wrong.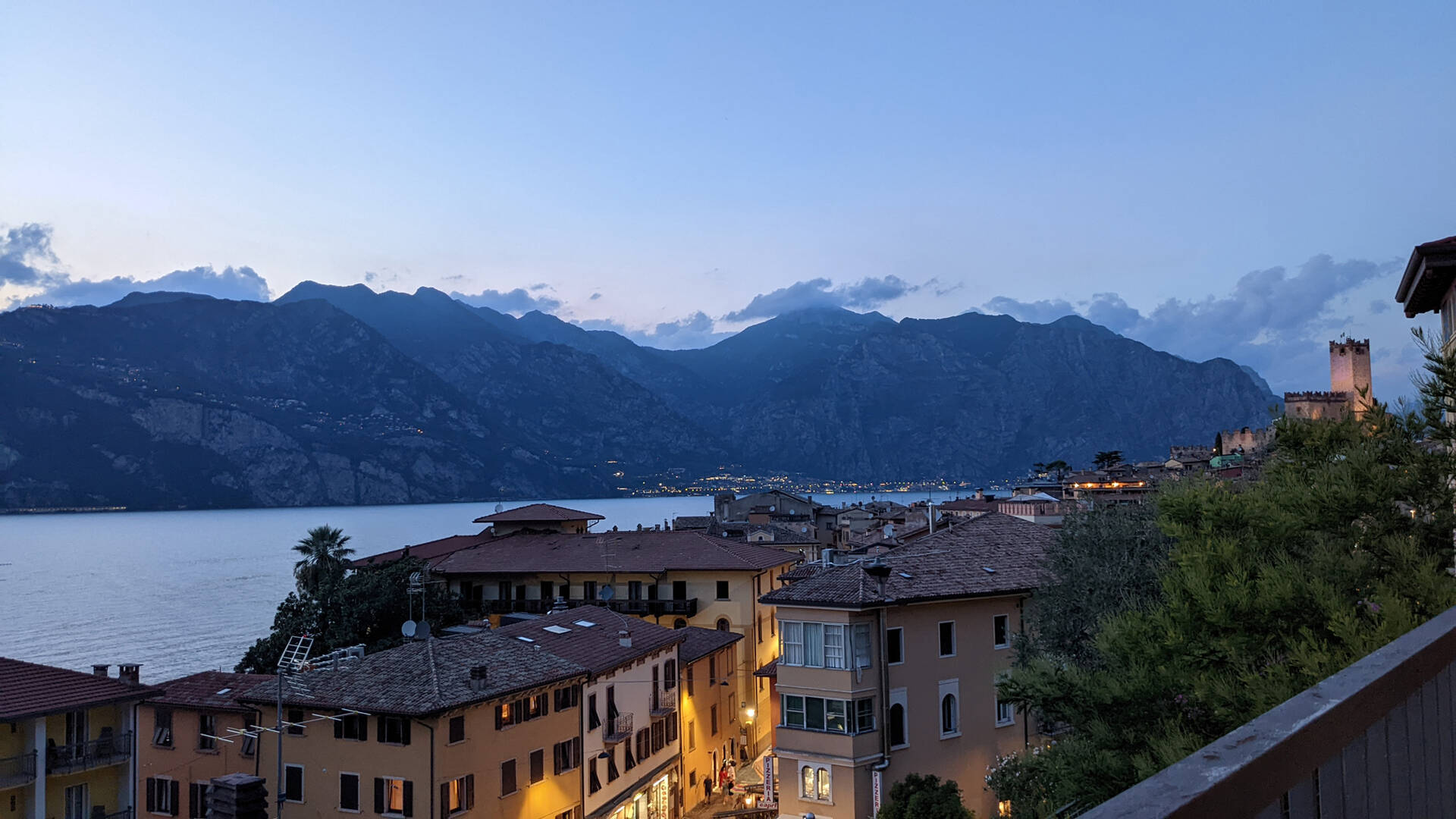 Valpolicella Wine Region
We've been extraordinarily fortunate to have visited quite a few famous wine regions, in the US of course, but also Argentina, Chile, Portugal, and France.  And here in Italy, we've spent many a day stunned by the beauty of Val d'Orcia in Tuscany.  So naturally, I had to book a tour for us in the wine region that is adjacent to Lake Garda, Valpolicella. 
It is here where the world famous red wine Amarone is produced, and the region is second only to Chianti in terms of overall wine production in Italy.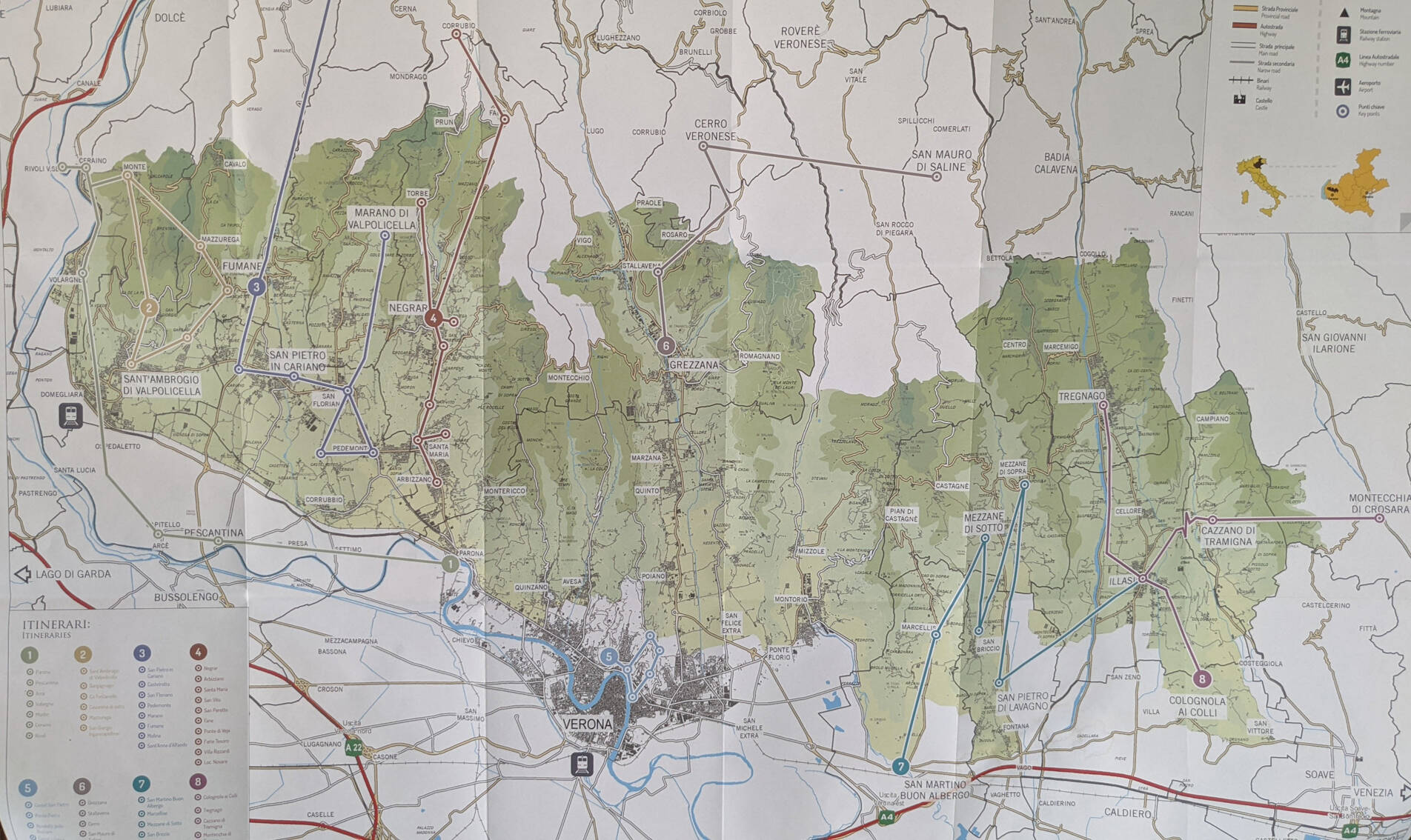 And being the snob I am, just any old tour wouldn't do:  we booked a driver and a swish Mercedes E class for the day.  Hotel Val di Sogno connected us with Maria at Aurea Travel, and she dialed the entire thing in for us. 
Summary:  it was Killer . . . but I can't say the scenery was quite as splendid as we had hoped for (first-world problem much?)
Here's what we did.
Farina Wines
Diamond Certified

This is a big, major winery, but one family-owned for centuries.  We had a tour of the entire facility, starting with the estate vineyards.  From there we visited both the old and new wine cellars; the big thing for me was learning of their commitment to aging their finest red wines in
concrete
!  Judging by the results, they're on to something.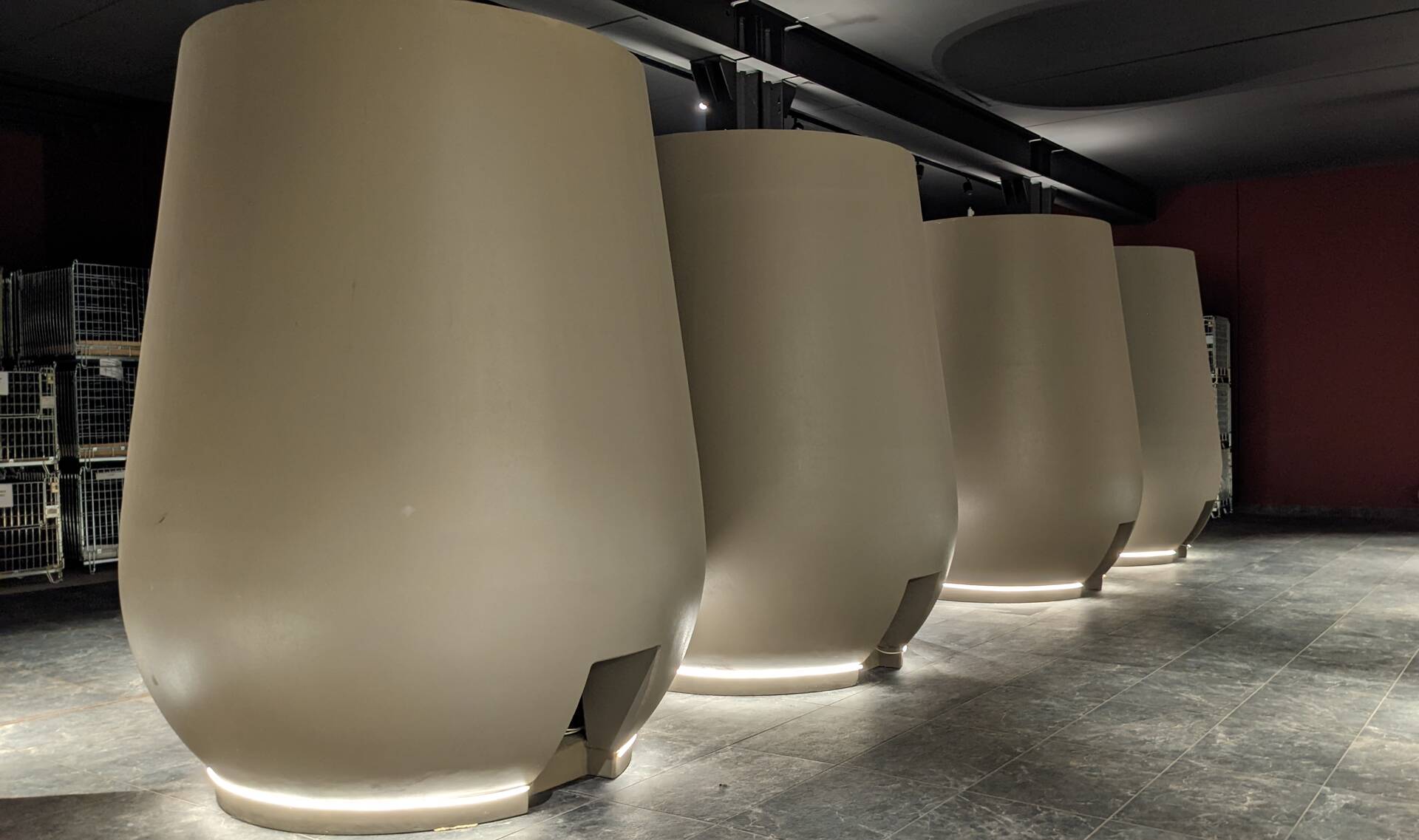 The entire facility was world-class, and that includes the tasting room.  Our hostess, Nichola, brought us salumi and cheeses (as only the Italians can do), and then blew us away with a tasting of something like 9 different wines, including Amarone's from the 2016, 2017, and 2018 vintages.  And two different grappa tastings!  The party is now on, as we stroll out to our car and driver for our next stop:  lunch.
Enoteca Della Valpolicella
Textbook

What they lack in branding creativity, they more than make up for with a total rustic wine country restaurant experience.  Food, wines, service:  all perfect and extremely authentic.  In fact, it was one of the most enjoyable meals of the entire trip thus far.  We were especially appreciative of the care our waiter took in pairing the wines with each meal course - of which there were five!  Highly recommended.
Mizzon
Textbook

Now, for something completely different.  Where Farina was the epitome of a modern, high-end winery, Mizzon is small and oh-so-Italian countryside.  AND IT WAS HERE WE LEARNED OUR LUGGAGE HAD BEEN DELIVERED TO OUR HOTEL!  Just a short 6 days without our clothes - but who's counting?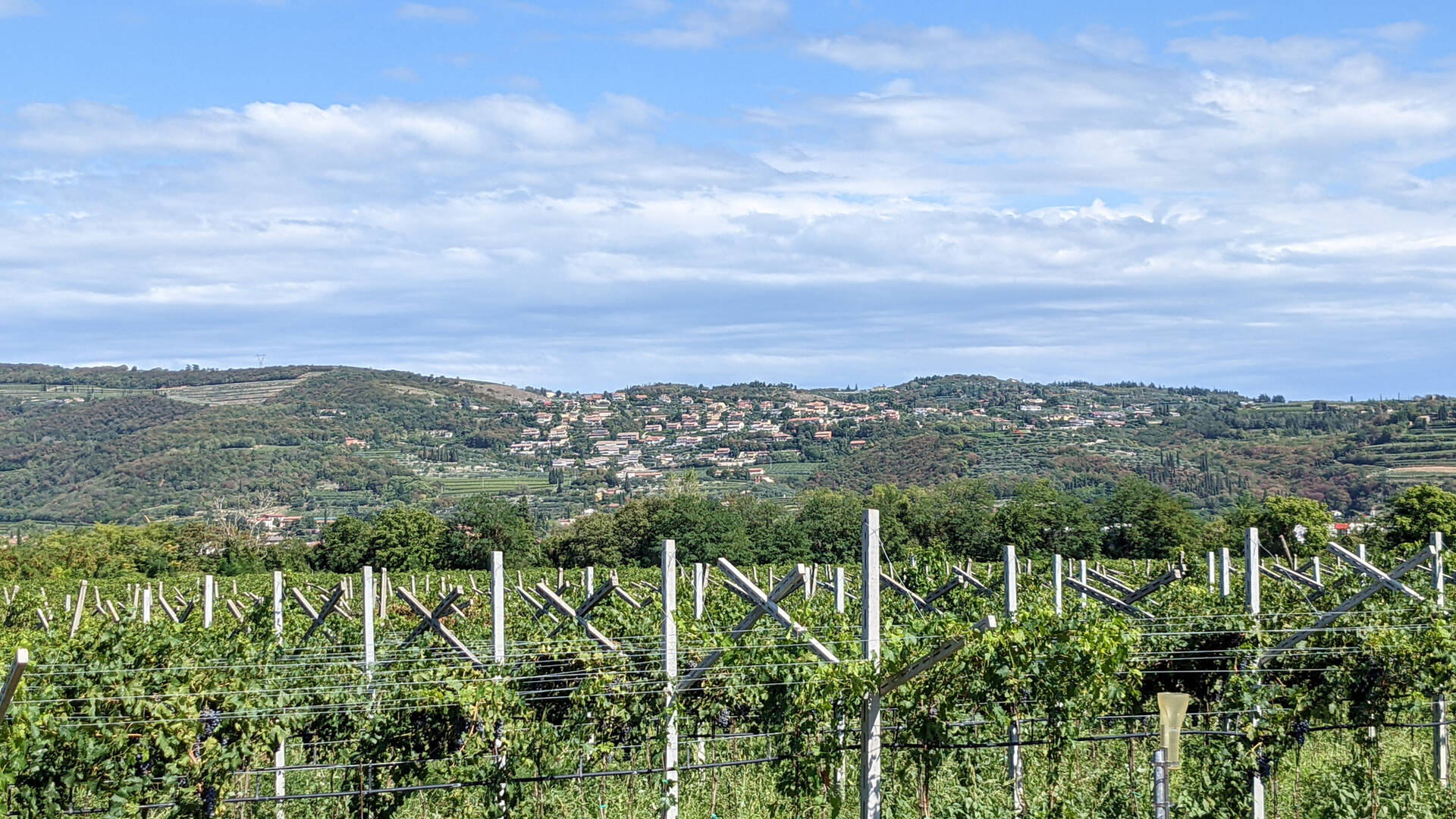 We had a nice tour followed by a tasting of their finest outside on their terrace, which impressed us enough that we bought a bottle of their dessert wine.  Their Amarone was excellent, and it should be noted that they, too, are doing the concrete aging thing.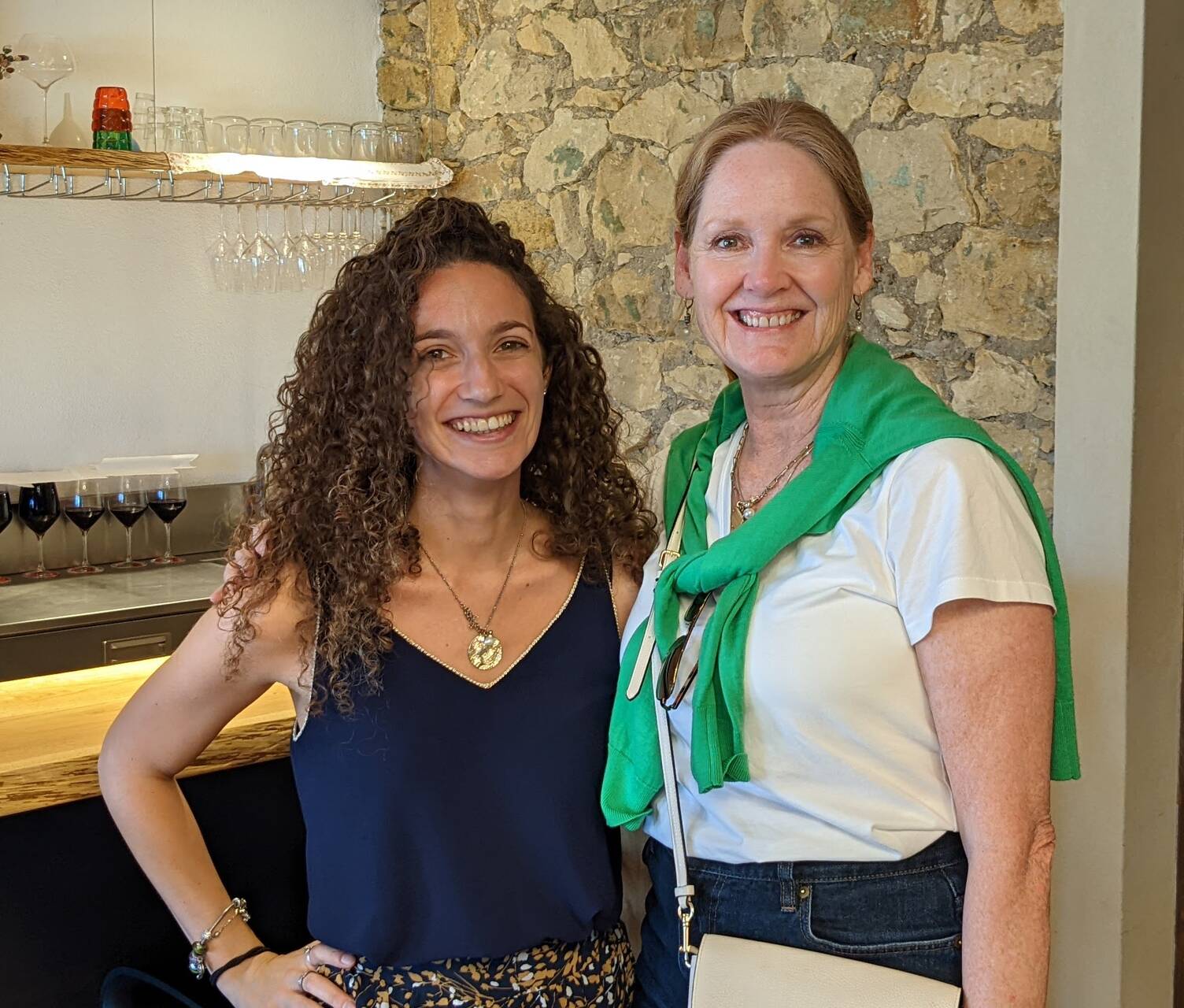 Miraculously, we could still walk to the car for the ~ hour ride home!
On the way back, we analyzed our choices, in terms of the fancy lunch Wednesday, the fancy dinner Thursday, and the fancy wine tour on Friday.  If we could do it over again, and as I mentioned above, we'd probably skip Vecchia Malcesine.   The wine tour?  While certainly fun and very memorable, it was 600 EUR, so it was not inexpensive.  In hindsight, I'd probably just hang at the Hotel Val di Sogno and watch the world go by.
MUSEUMS/GALLERIES/PERFORMANCE ART
Sorry, not here.  I don't even know what's available, to be honest.  And frankly, seeing an elderly German couple change bathing suits in front of us at the hotel pool was about all of the performance art I could stomach.

SHOPPING  
We were so happy to get our bags on Friday that it was like we had gone shopping already!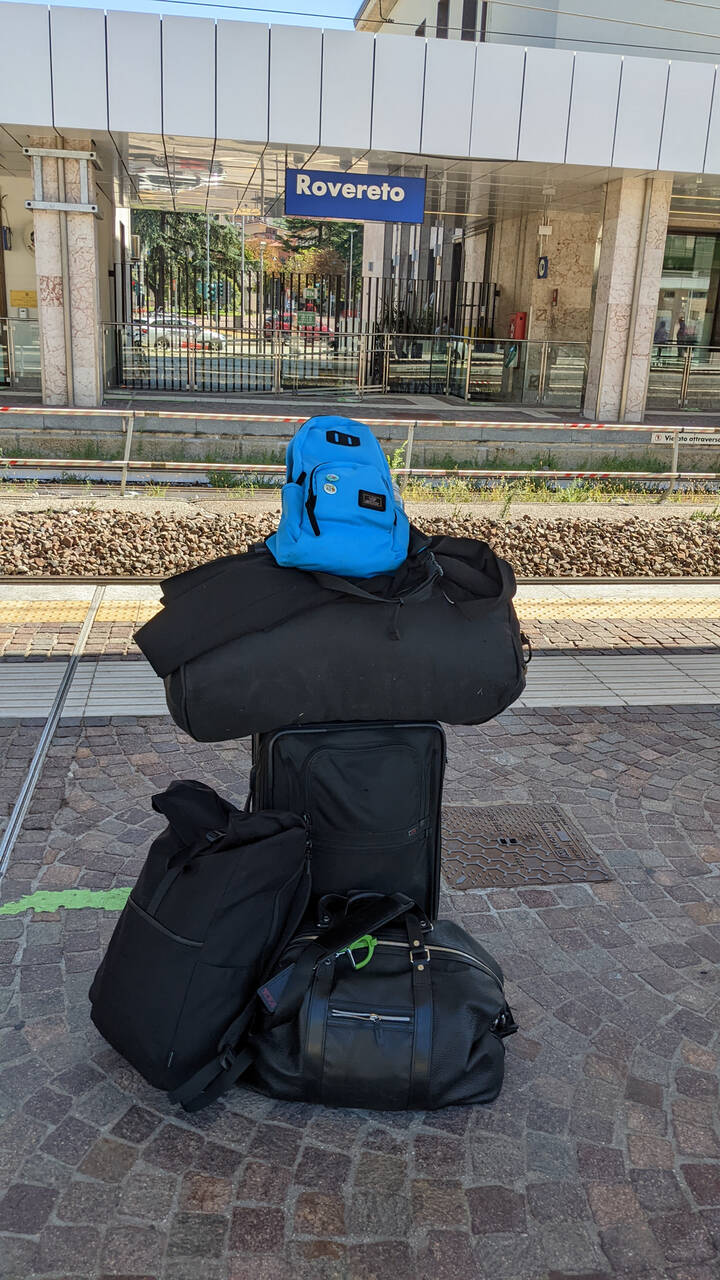 On Sunday, a car took us to the Rovereto train station (with our bags!) and we're off to our next stop, the incomparable Adler Mountain Lodge high up in the middle of The Dolomites.  Get ready to be blown away.