Let's clear up a couple of things right away.  This Travel Guide sounds grand in scope, but it really covers only  Las Cruces, New Mexico, El Paso, Texas, and 3 National Parks, two of which are located in southern New Mexico, the other in, yes, west Texas.  So apart from its copious length, it's not that grand.   
Next:  it's doubtful many are sitting around planning vacations to Las Cruces or El Paso.  Fair enough, and I don't expect this Travel Guide will change that. 
But if one did want to see 3 (as usual, spectacular) National Parks and experience things that are perhaps different from where you live (like lower prices and sincerity), it's a
Killer
trip.  We did it in the height of summer, thus some of our activities were curtailed due to heat (especially at White Sands National Park), but it was still fine - just get an early start.  Otherwise, literally any other season would be ideal, unless poolside action is critical (it is to me).  Here would be a reasonable and very enjoyable itinerary, especially in the swimming-friendly months.
Fly to El Paso and rent a (very reliable - see below) car
Drive to Las Cruces and chill poolside for a couple of days, or more
Early AM drive and tour of White Sands National Park
Drive to El Paso (if I was doing this again, I'd actually stay 2 nights in El Paso vs. 1 as we did - no kidding - I'd visit the impressive-looking El Paso Museum of Art, and/or perhaps a Chihuahuas game, both located next to the hotel I suggest below.)
Early AM drive and tour of Guadalupe Mountains National Park (the drive from El Paso to Carlsbad is one of the most desolate stretches of nothing in America - like 120 miles of nothing - that's why a reliable vehicle, full of gas, with great A/C, is a must)
Drive to Carlsbad, NM for the night
AM drive and tour of Carlsbad Caverns National Park
Return to El Paso for the flight home

Enjoy and do consider this trip - you might be pleasantly surprised if you visit the region.
LODGING
Las Cruces
Much like
Tupper Lake
, my experience in terms of lodging in Las Cruces will be hard for you to replicate, but I'd suggest trying.  That's because Julie's Dad and stepmom live here, and we've been staying in their fine custom home, with impeccable desert views and a pool, since the early '90's.  But in the words of Ol' Purple Label, let me be clear:
Las Cruces, with the right private house with a pool, could be considered a poor man's Palm Springs (or Scottsdale) - just without the fun downtown.
Look for an Airbnb, VRBO, etc. in the Picacho Hills or Mesilla areas.  There are more choices that fit the bill than you might think.  Get a pool with a view in season and I doubt you'll complain.  Here was a sunset view during our visit, and having been here many, many times, this is not at all unusual.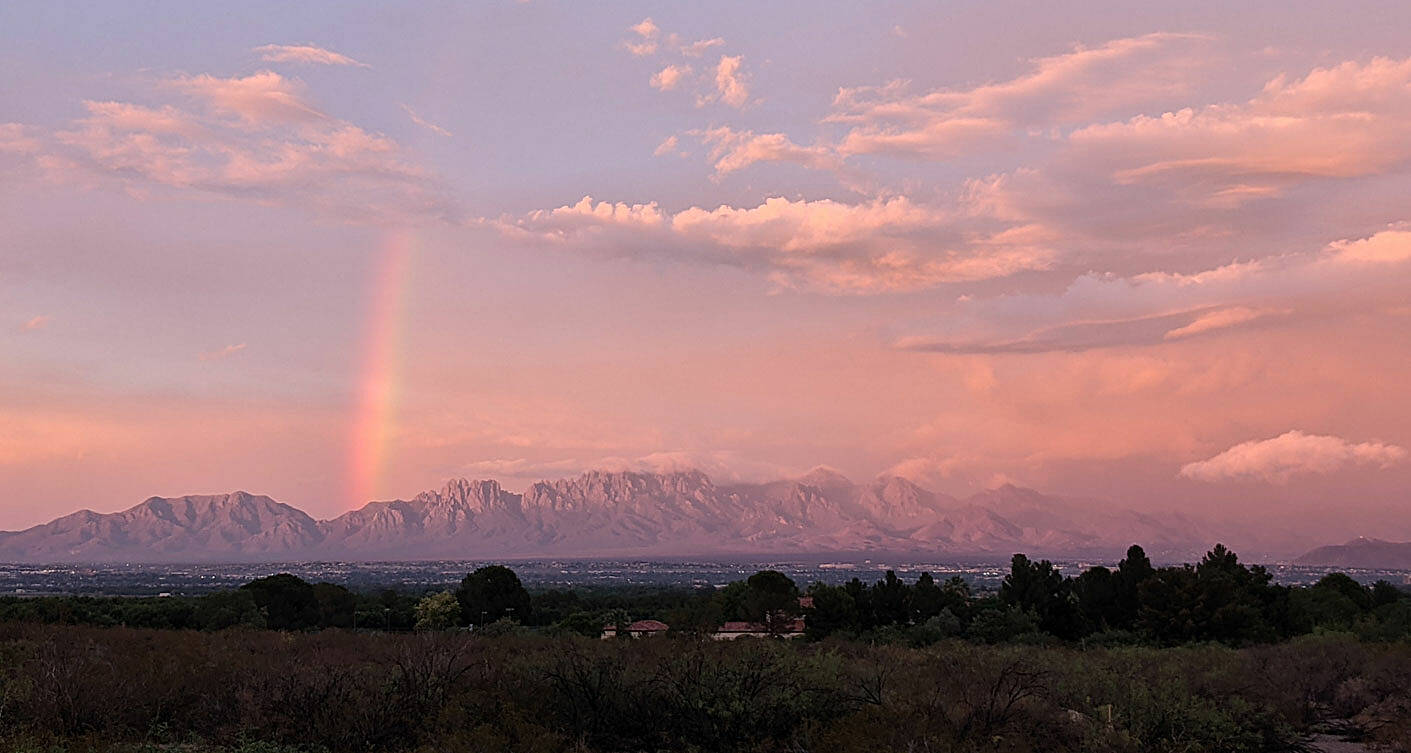 Hotels?  No.  There's nothing of distinction here, although I did glimpse a new-ish looking Courtyard by Marriott.  You get the picture.  However, we did see some of the gnarliest Route 66-ish type motels (ever), just in case you have a porn shoot and/or drug deal coming up and need a location.
El Paso

Wow.   We were very impressed by
Hotel Paso del Norte
.  It is a part of Marriott, and it just re-opened after what was clearly a studious and expensive renovation.   Our room was fine, nothing more, but the public areas  would have been impressive for a hotel in Buenos Aires, let alone El Paso.  The pictures of the two bars and the incredible restaurant tell the story and speak for themselves.   The darker bar is poolside, 10 floors up.
We were equally impressed by the surrounding downtown, which one may find ridiculous if El Paso is the topic.  Your mistake.
The Hotel Paso del Norte is Diamond Certified, and if El Paso itself (I'm referring to downtown only) isn't, it's not because they're not trying.  I've not previously seen such a sincere and positive attitude from every local we met regarding a downtown that appears to be revitalizing nicely.

Carlsbad

Not to harsh on the fine people and community of Carlsbad, NM (which includes our sister-in-law and Biff Fladgate's wife, the fetching Marilyn Millan Fladgate, who is from there), but there would be no reason to go if  not for the fact Carlsbad Caverns National Park is nearby.  We were told after the fact that the swank place to stay is
The Trinity Hotel
, but we didn't, instead choosing the brand new-ish
Hyatt House
.  Set up for extended stays, our room was giant, comfy, and extremely well-equipped.  It's also closer to the National Park than any other Serviceable or better place.  But I am not giving the Hyatt House in Carlsbad a rating because its bar was closed for no good reason.   First world problem?  I DON'T THINK SO.  Maybe I should call
former client
Nick
to complain?

THE GREAT OUTDOORS
Las Cruces: 
Picacho Hills Country Club
, Killer
I mostly fool around with golf (Mr. Simon would likely not approve of my informal approach to the game nowadays), but I used this place almost daily for my hikes.  Gorgeous, nice layout and in very good condition.  Here's one of the many photos I couldn't resist snapping out on the course.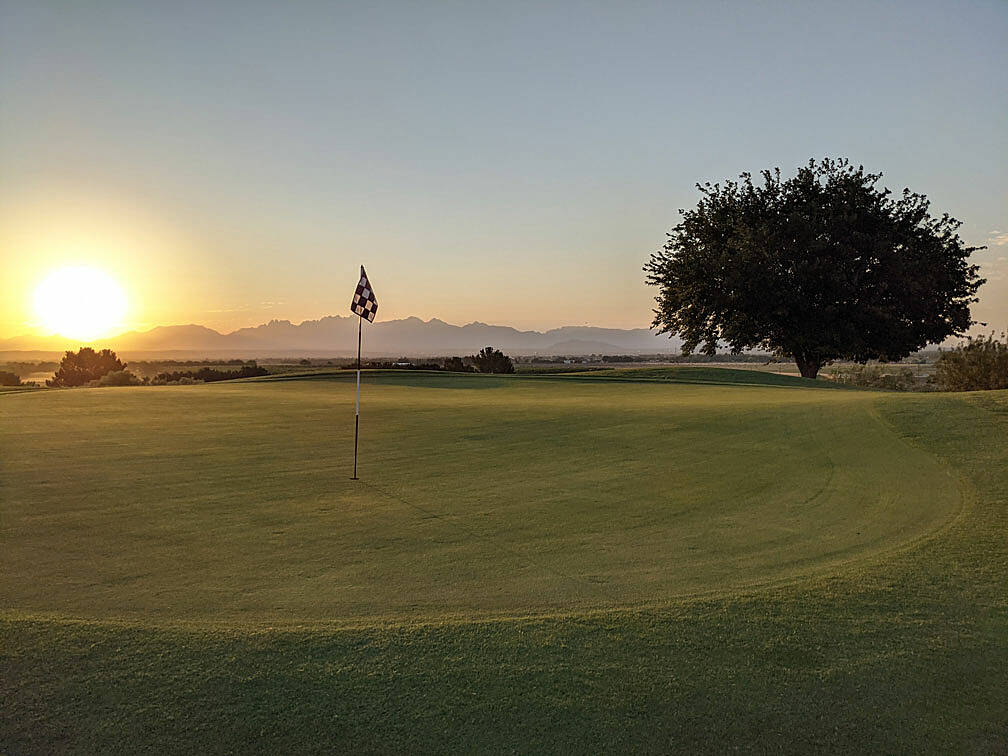 Frankly, when I'm here, I mostly hike 5 miles and then immediately go poolside and deteriorate from there, so I can say nothing about other outdoor activities.  No doubt the
New Mexico State University
campus is worth a walk, and look, here's
a list of other outdoor things to do in Las Cruces
.  I'd stick poolside, frankly, apart from runs to Kelly's for more weissbier (see
Shopping
, below).
White Sands National Park
: 
Diamond Certified.  The place is ridiculous.  Maybe "other worldly" is apt.  We're talking about 275 square miles of the smoothest, finest, whitest, and coolest (temperature) sand you've ever seen.  In the middle of one big-ass desert.  Do the Boardwalk hike, and maybe one other if it's not too hot (it was for us).   Sunglasses and sunscreen are a must 365 days/year - think of each grain of sand as a tiny mirror and
you get the drift
.  Note the tiny car in the background for perspective.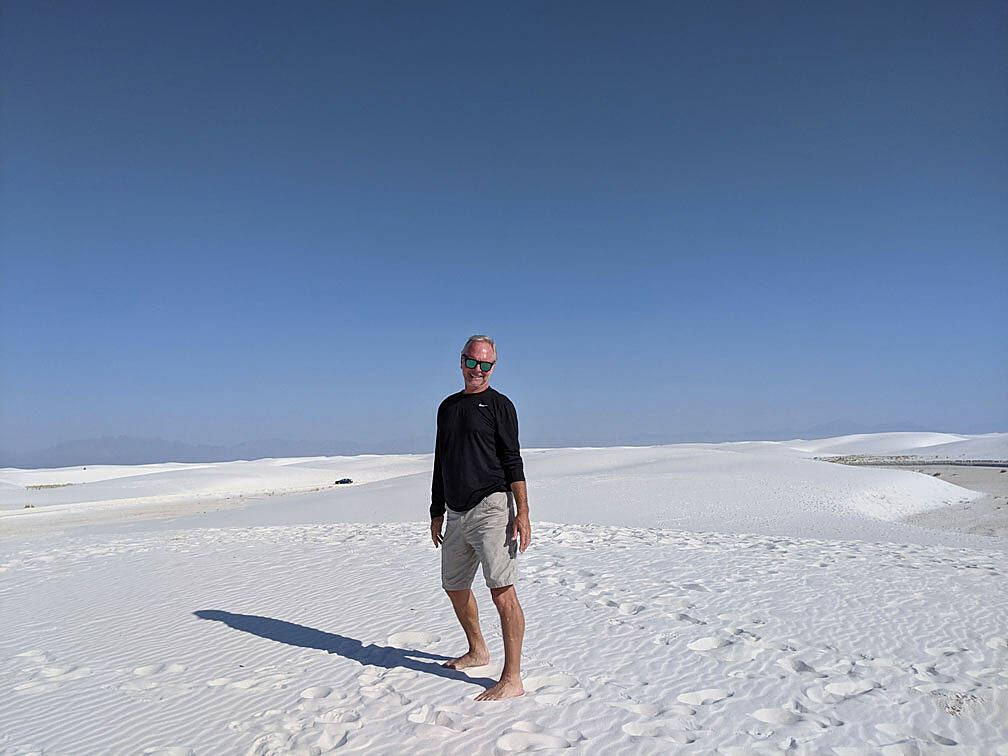 Guadalupe Mountains National Park
: 
Killer.  Built around the highest mountain peak in Texas (Guadalupe Peak is approximately 8,600 feet in elevation), this is a beautiful synthesis of mountains, desert, forest, canyons, and the single most impressive
real-deal oasis
I've ever seen.  You get to the oasis by visiting the Frijole Ranch part of the park and it's about a 2.5 mile roundtrip hike from there.  Midway through the hike you'll arrive at the lush, spring-fed oasis, and be astounded, as all of a sudden it feels like
the Adirondacks
all over again.  No joke.  We also enjoyed the mile-long Nature Trail in McKittrick Canyon.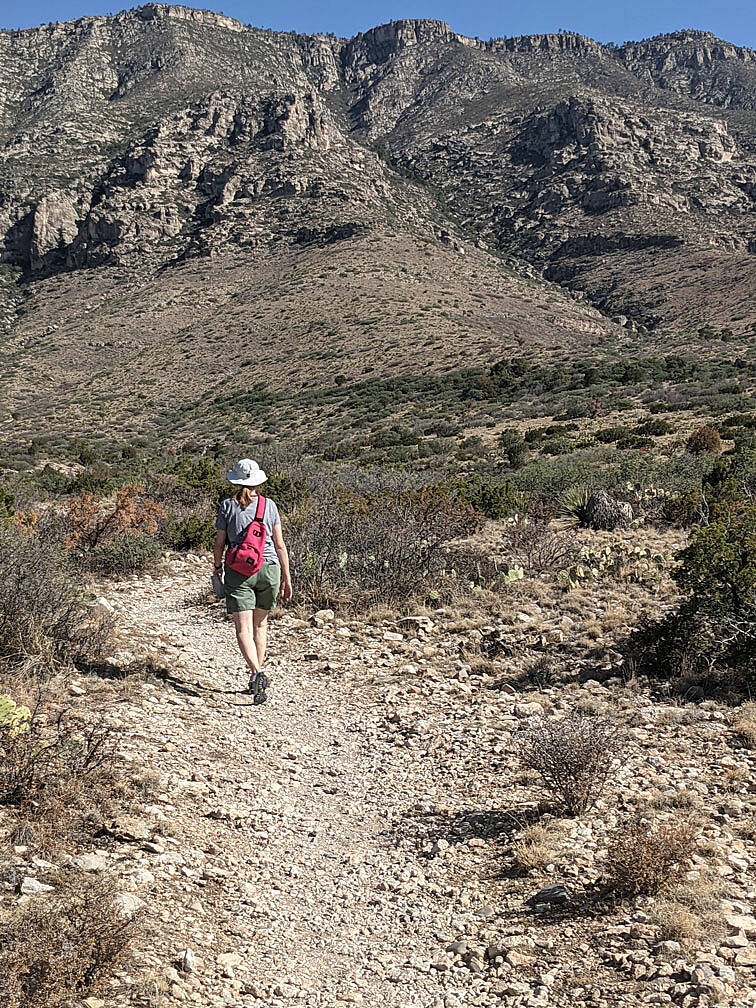 Carlsbad Caverns National Park
: 
Diamond Certified.  Holy shit, don't die without going here first - was that strong enough of an endorsement?  The decent into the Earth is so astounding, and the decorations in the rooms (those are the correct terms) are so extreme that it is disorienting, but in a wonderful way.  This brought to mind the famous Arthur quote, uttered before I visited Hawai'i Island for the first time, in 2006:  "Don't miss
Hawai'i Volcanoes National Park
- it's
as spectacular
as Yosemite."  That sounds mindless until you go, so try this:  "Don't miss Carlsbad Caverns National Park, it's as spectacular as Hawai'i Volcanoes National Park."  So spectacular it gets 2 (not even close to doing it justice) photos and a
video
.  Pro tip:  bring a fleece, no matter how hot it is outside.  It's a steady 58 degrees Fahrenheit down there.  And for God's sake, unless you're wheelchair bound or really can't walk more than a few steps, do NOT take the elevator down to The Big Room - the decent of approximately 80 stories is amazing in its own right.  
Before leaving the great outdoors and going eating and drinking, I should point you towards something we did not do, and that I mention above.  It would be a fun excursion for people like me, Hunter Deuce, Prof. Howard Blum, Esq., Byron Browne IV, and perhaps even the MIA golf host, the high-powered computer chip peddler, Devin Singh, PhD (assuming his familial responsibilities don't interfere). 
The excursion would be to take in a game or two of the San Diego Padre's Triple A farm team, the
El Paso Chihuahuas
, at their
jewel of a downtown ballpark
.  Hmm - road trip, boys?
EATING/DRINKING/SHOPPING
Las Cruces Eating/Drinking

(Editor's note:  folks, it's Las Cruces, New Mexico.  Which is close to
Hatch, New Mexico
.  So the name of the game here when dining out is New Mexican cuisine, full-stop.  Snobbery alert:  There are Serviceable other places/cuisines in Las Cruces, but that kind of seems silly, at least to someone that lives in San Francisco.  This Snobbery alert has concluded.)
Andele
, New Mexican, Killer:  my rating would be Serviceable, but it's the current local's favorite, everyone else at my table loved their dish, and I could be wrong.  There's even a dog-friendly part, so how bad could it be?
D.H. Lescombes Winery & Bistro
, Continental, Serviceable:  sorry, Davis, but they lose me with the restricted wines.  OK, I get that NM wines are up and coming, and this guy is a quality maker.  But
nothing
but their own wines?   In Bordeaux, sure, but Mesilla?  No, but I will say the food was fine.
La Posta de Mesilla
, New Mexican, Textbook:  always good and somewhat upscale for a New Mexican place, but jeez, make a booking.  Pro tip:  if you have to wait, there's a great beer/wine bar across from the rear entrance.
El Sombrero
, New Mexican, Textbook:  the real deal, with 60 years under their belts.  It has that certain scruffiness that tells you it's good and real.  It's all of that and more.
Hacienda
, New Mexican/Continental, Killer:  another upscale spot, but this one is a bit different in that they have a nice mix of New Mexican food along with more standard steaks, chops, and fish.
Si Senor
, New Mexican, Killer:  Davis's favorite, and maybe mine too.  Best green chile rellenos of the trip.
Honorable mentions go to
Valley Pizza
and
Icebox Brewing Company
.  Guess what we had at each place?  The pizza would have been good in SF (if not NYC), and FYI the brewpub does not serve food, and the promised food truck was not open.  Good beer, though.
En Route Eating/Drinking

Orogrande Area 54 Trading Post & Grill
:  Textbook (but a Textbook version of a really nasty roadhouse/dive bar).  Frankly, I feel it should be illegal to not to stop at roadhouses.  We all know what I'm talking about - dive-y, sketchy places where one humbly orders a boilermaker and maybe grabs a properly greasy cheeseburger on the way to your destination.   Like
this place
, an all-time fave - coincidentally, also in New Mexico, and certainly an archetype.
As we were driving from White Sands NP to El Paso on Highway 54, we came across a place that appeared to fit the bill.  It did, but a word to the wise:  this was THE divey-ist, THE sketchy-ist, and yes, literally THE nastiest dive bar I've personally witnessed (yeah, yeah, I know:  and I've seen a few).  Summary:  the barmaid was apparently living in the back room of the bar, and came out with a lit cigarette proudly dangling from her, um,
weathered
, lips.  Teeth?  Nah.  But despite me gagging (literally - you tell me the last time you were within 2-3 feet of someone really huffing on a cancer stick), we proudly did our business and moved on.  Not to be missed.  Well, maybe you could miss it - it was f'ing nasty, but it did leave an impression.
El Paso
Save the cracks.  You're wrong.
Park Tavern
, New Mexican and Quality Pub Grub, Killer:  one of several pretty darned cool-looking bars and restaurants that we saw downtown, we had a great lunch here consisting of one bowl each of spot-on green chile posole (although they used the spelling "pozole").
The Dome Bar
,
1700° Steakhouse
, and
El Mirador Rooftop Bar
, Diamond Certified:  hopefully, you can figure out the cuisine offered.  Much like the Hotel Paso del Norte itself in which all of these are located, each spot was really impressive.  "Swank" describes both bars, and 1700° bordered on revelatory.  We just weren't expecting how truly impressive this restaurant was.  Food, service, presentation, wine list, and ambience - it was all as good as it gets. 
Honorable mentions go to
B17 Bombers Oyster Bar
and
Anson 11
.  Both downtown, the former was a fun sports bar (although there's no way I was having oysters in El Paso), and the latter, a very sophisticated bar and restaurant.  We peaked in to Anson 11, saw they had Franziskaner weissbier on tap, and that was that.
More:  we only peaked in, but we have it from reputable sources that
Café Central
is Killer, at a minimum.  And it looked like it.
Carlsbad, NM
Your choices are pretty limited here, although as with lodging, The Trinity Hotel is supposedly the place to dine.  We had lunch at the Textbook New Mexican place
Roque
upon our arrival, and then after naps, decided to skip the fancy stuff and we went to the Serviceable
Guadalupe Mountain Brewing Company
.  Their beer and pizza were very good, but it was marred by them not having table service (not enough staff?).
Shopping

As always, it's rarely a focus for us, and it wasn't this time.  But here are a few notable places that could come in handy and/or are kind of fun.
Kelly's Liquor Store
, Las Cruces:  an excellent selections of weissbiers and other lesser beers, too.  Not to mention an impressive (for here) selection of wines and the hard stuff.  Note that there's no BevMo nor Total Wine in Las Cruces.
Nambe
, Las Cruces (in Old Town Mesilla):  this stuff was a big deal back in the day when we lived in Albuquerque, and I still think it's pretty.  See it for yourself at this, one of their few retail stores.
Starr Western Wear
, El Paso:  giddy-up, Tex!  This place has to be seen to be believed.  As big as Texas!