TODAY'S RAMBLINGS
Please sit down - a couple of things are about to surprise you.   1:  Today's Rambling will be short.  2:  I will make a point quickly.  

As my anger at the ignorance moves to rage, I'll make an observation about those who refuse to get a SARS-CoV-2 vaccine.  To understand their sheer lunacy, please consider:


These folks think getting the vaccine is dangerous in some way - perhaps even very dangerous
They drive cars
Huh?  My point is this:  the next time you're afraid of something - anything - consider that only heart disease and cancer kill or hurt more Americans than driving does.  Driving (or even riding in) a car is by far the most dangerous thing most adults do in their entire lives, yet it barely registers as a concern to anyone.
Specious?  Perhaps - many have to drive to support their families and/or have no other viable choice.  But you get my point.   
We went through
The Enlightenment
and
The Renaissance
centuries ago to avoid things like this; I find the escalating preponderance of know-nothings on this topic
and others
to be depressing.  We have got to address the ignorance problem in America, or (to expand upon Steven Simon's recent eloquent words):  we are good and well fucked.
P.S.  If you're interested in more context, here is a great article on America's vaccination slowdown.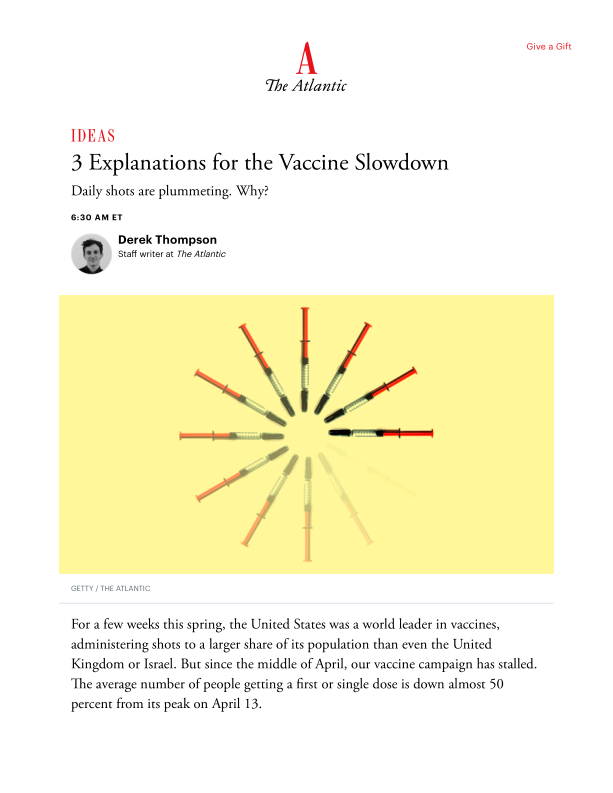 FROM THE UNWASHED MASSES
My meditation on the joys and agonies of SF was met with some thoughtful responses.  The oft-literate Hunter Deuce, fresh from a well-deserved day on his couch after a grueling 2+ week vacation on Hawai'i Island, was kind enough to share this very heartfelt (and true) quote about San Francisco:


"I'm reminded of an 'editorial' piece A. Whitney Brown did on SNL right after the '89 quake. He wrapped it up with this little nugget about San Francisco: 'A little shaky, a little flaky, but it brings out the best in those who live there.' I've always liked that."

Me, too - thanks, Hunter.

There were also these words of wisdom from the esteemed and prolific Dr. Doreen Downs:
"A decision about where to live can be perplexing. I can tell you that the SF suburbs have worked well for me for nearly 50 years. When I get restless, I travel.  My only regret is not traveling more in the past 14 pandemic months."
True dat, Dr. Downs. 
The Good Doctor also shared some exciting travel plans:  she's off to
Channel Islands National Park
!  Between us, "Polly" and Primo, and 5 Star Doreen, we're going to have a cool tally of National Parks visited by year's end. 
In fact, to keep everyone awake, I'm unilaterally starting a contest:  most visits in calendar year 2021 to a true National Park (so Monuments, Historical Parks, Seashores, Recreational Areas, etc. need not apply) a meaningful distance from your home gets a $50 gift card from REI from me.  No joke - get outside in a National Park more than any other reader of this blog and I'll send you $50.
If you'd like to participate, just reply to this with your specifics and I'll add you to this whiz-bang
Airtable
database, which documents the visits in 2021 by the contest's current participants:
National Park 2021 Showdown
Don't count us out quite yet.  This is a year of travel for us unlike any in our lives, and that's going to include the quantity of National Parks visited . . . so we're coming for ya, "Polly" and Primo . . .
Lastly, a big thanks to fellow AARP fans Arthur and his ripped wife Mrs. Krup - they hosted me on their posh new terrace at their home on the Peninsula this past Monday.  Arthur upped the ante by treating me to a
Killer
sushi and sashimi session at
Sushi Plus
, located in the sheer splendor of central Redwood City.  All kidding aside:  some super fresh and well-prepared fish, at prices that make you happy to dine out again.
Sadly, I drove down, so my intake of sake and post-lunch whiskies on the terrace back at Oak Ridge was limited.  Yep, The Dangers of Driving writ large.
Thank you to anyone that is reading this blog.

KLUF

It was big news here at my fantasy radio station when my favorite band (with all due apologies to Rush),
Guided By Voices
, released their 33rd album, "Earthman Blues", on 30 April 2021.  Yes, despite the fact you may have never even heard of the band, they have, indeed released 32 previous albums (and
Robert Pollard
, the brains of the outfit, is on ~ 100 [!] total albums, including those with GBV). 
So in their honor, I'm expanding today's KLUF - below, there's GBV via streaming, downloads, and even a video.
To me, some of the songs on those 33 GBV albums represent the pinnacle of guitar rock.  Don't believe me?  Put on any of
the headphones listed here
(or heck, whatever you've got), and then push play - I've made it simple (albeit compressed and not in high-res) for you to listen via Spotify: 
The Portico Darwin Guide to Guided By Voices
With headphones, especially, their famous "earworm-ness" really takes hold; few can resist once exposed.  I mean, my God, listen to the layers upon layers of guitars at the end of "Enemy", and the gargantuan riffy-ness  of "Pivotal Film", to name just two of the countless anthemic moments that permeate
their discography
(and those are from one single album!).
It's high-res GBV you want?  I've previously shared 2001's soaring "
Isolation Drills
", but what the heck, there it is again, and for good measure and to prove their relevance year after year after year, here's 2018's every-track-is-great "
Space Gun
".
See as well as hear? 
I adore this video
for one of my fave tracks from "Space Gun", "See My Field".  Talk about footloose and fancy-free.  That is actually how they perform live - their shows are justifiably legendary.  Ask anyone that's seen one, like my better half Julie, seen here right before an April 2017 show, outside SF's also- justifiably-legendary (and definition of
Textbook
)
Bimbo's 365 Club
.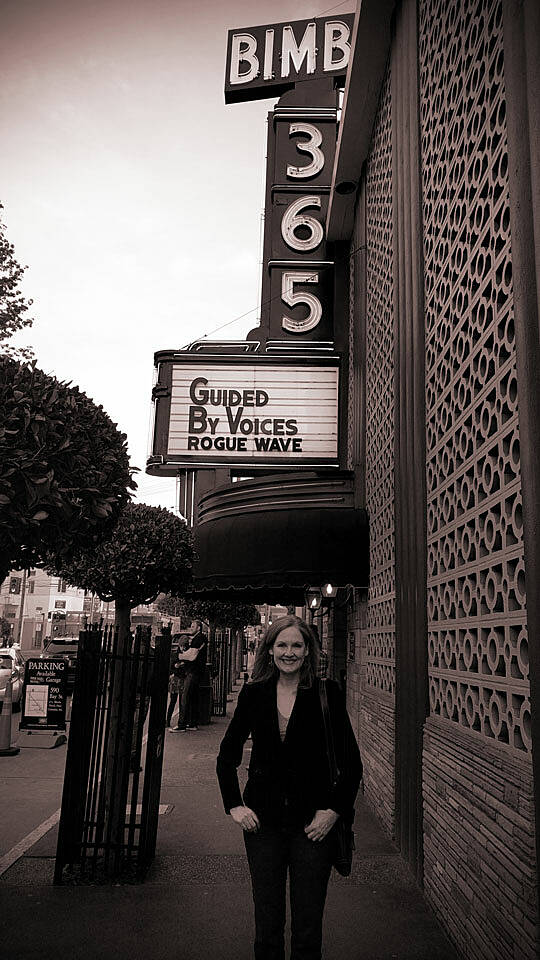 Don't get me wrong - they have plenty of stuff that can best be described as "
experimental
" or "
eccentric
".  But when they're on, there's no one better, at least to this 57+ year-old white male of privilege living in San Francisco in the spring of 2021.  Rock on, kids.