TODAY'S RAMBLINGS
(Note to self:  don't write blog posts after partying at Mad Oak.  My post Friday morning had more typos than you deserve.  Apologies. 
Here's
a copy hopefully free of boo-boos.)
No politics on a holiday Monday.  Instead, the GOP to which I'm referring is coverage of the pretty much non-stop Grand Old Party that went on in The Marina District, The Presidio and Laurel Heights right here in SF, since Friday.  Overall, it was a foggy weekend, but the weather itself was mostly nice.
It began innocently enough with the arrival of the fellow
Ataraxis
aficionado Ol' Purple Label and her purse-dog,
Silly
.  OPL wisely opted for the understated elegance of
The Lodge at The Presidio
for her 4 night stay.  As we ourselves did not stay there (it's a 15 minute walk from our apartment), it's not getting a rating, apart from saying we had a ball all weekend around the firepit, in the very cool lounge areas, and on the front porch. 
Hunter Deuce
and I spent a fair bit of time on the front porch, in fact.    
The Label, Silly, and I started the party with a late lunch Friday.  I walked us from The Lodge at around 2pm over to a new SF fave, the
Killer
and very French
Cote Ouest Bistro
, lovingly operated by owner Laurent (I couldn't make it up).  He gave the Baker Street Bistro the makeover it needed, and it tempted us into two nice bottles of Cremant, a fine cheese course, great oysters, pate', and even steak frites for Ol' Purple Label.  My esteemed clothing magnate friend also picked up the tab, so it was smiles all around as we moved the party back to The Lodge.   
And that means the firepit overlooking the Golden Gate Bridge.  Soon, Hunter and Fi Deuce joined us, and the party was on.  And on.  And on.   With a microscope, you can see Silly the dog in the bottom photo; in fact, Silly is about the only thing in the photo not blocked by Julie's hand.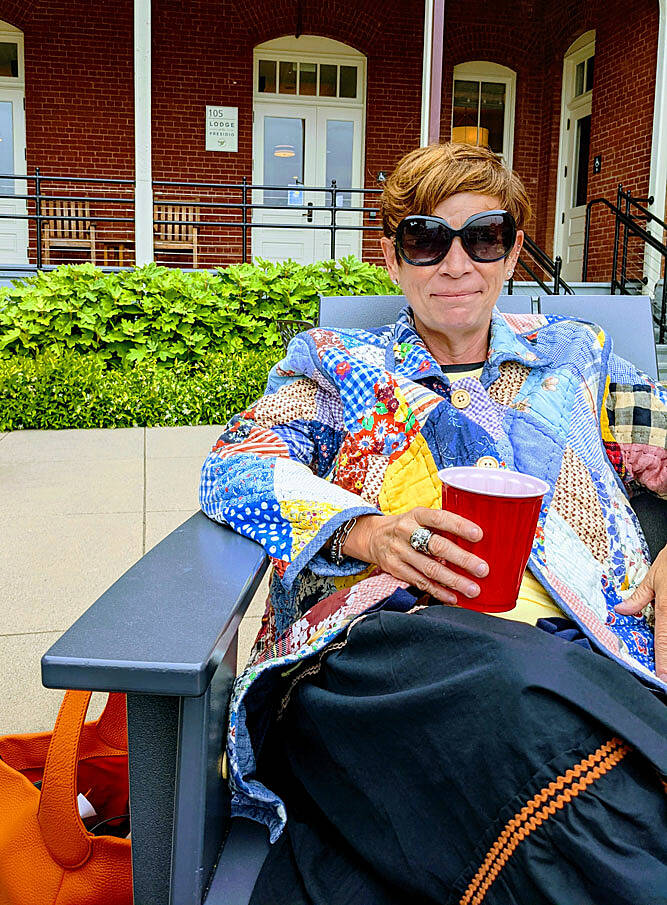 We came to view The Lodge not having a restaurant nor bar as an advantage:  we basically had the run of the common areas, and we somehow seemed to have plenty of wine and other things over the course of the weekend.
Saturday consisted of a secret hike to a secret snack shack at a secret golf course in a secret National Park (National Recreation Area).   I can say no more, although we did wrap with another fine firepit session.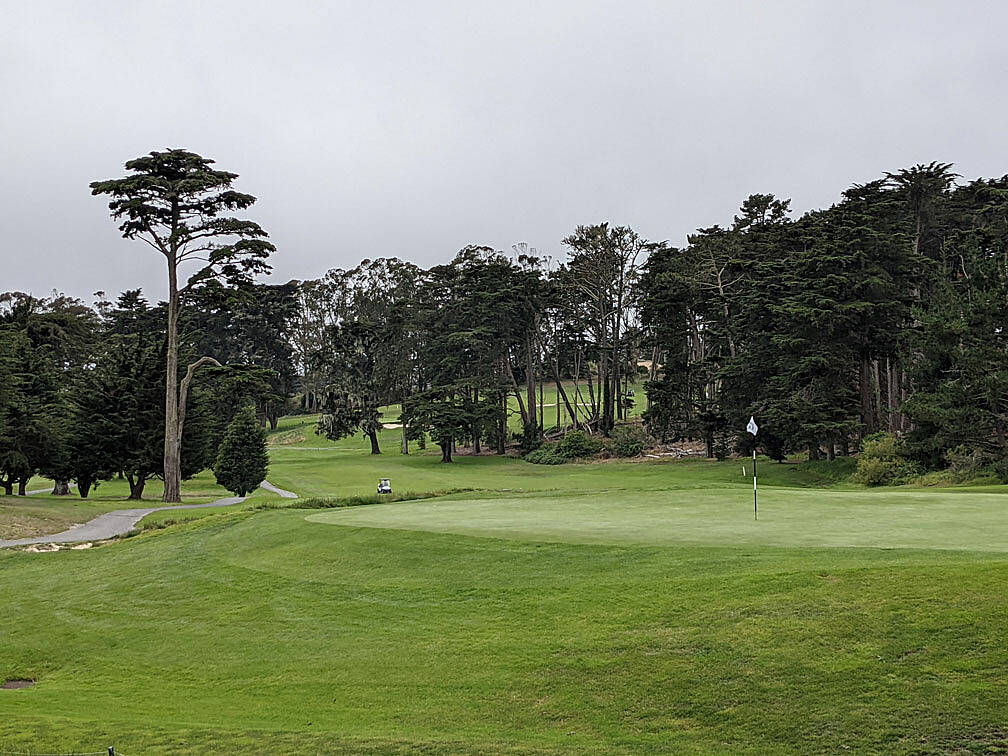 On to Sunday and the
kegger
quiet garden party at Professor Howard Blum, Esq.'s residence in prestigious Presidio Heights (well, actually, Laurel Heights, but who's noticing).  It launched with pre-party bloodies at noon at our place with Ol' Purple Label, and then the 5 of us we were whisked away in the luxury of the Deuce's Uber Triple Black to Prof. Blum's. 
As expected, Prof. Blum's new kittens (likely to be named Deana 1 and Deana 2) hid for much of the time, but we did spot the little buggers occasionally between trips to the bar.  Indeed, it seemed our gracious host was a bit distracted by his new babies, as rather than downing Fernet shots as per usual, the famed educator and tax attorney was sipping warm milk, and from a saucer at that.  He also nixed the music early, but not before Hunter and I had ripped into Howard's fine Zacapa rum.  Funny how that rhymes with "yum".
So while Fi (and Prof. Blum) called it an early evening, after a quick Uber, Hunter, Silly, OPL, Julie and I had one last session early Sunday evening at the firepit back at The Lodge.  Good night.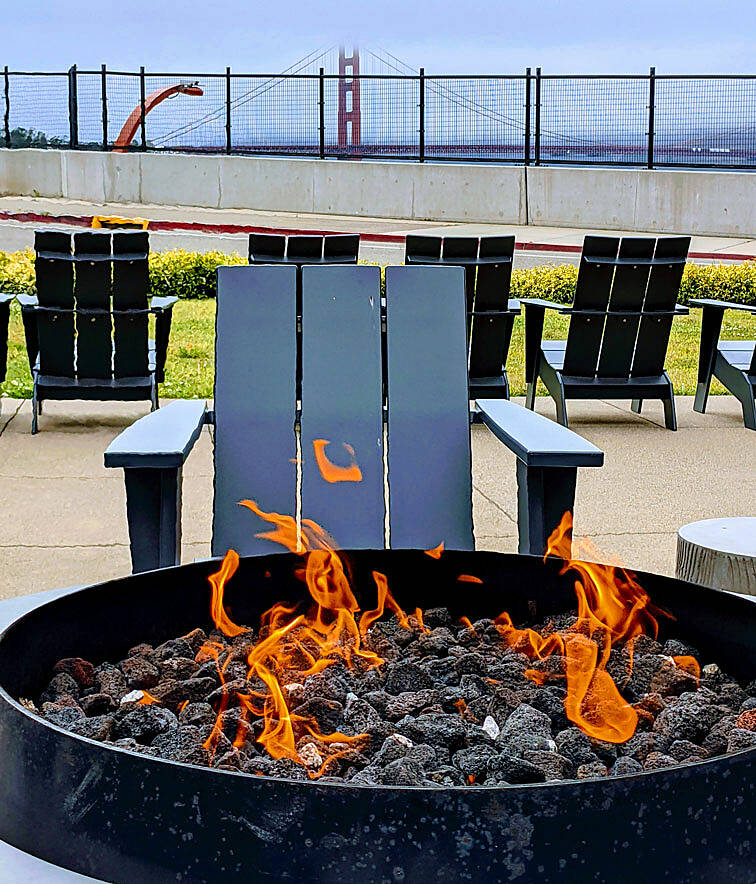 And could we possibly also say good night to the current incarnation of the actual GOP, or at least to its  unhinged parts?  I'm just sayin' . . .
FROM THE UNWASHED MASSES

More than one reader called "BS" on Max Ryder's so-called "Allsides" media bias chart.  I'm not going to reprint it, but if one
looks at it
objectively, you can, sadly, see its own bias.  CNN is rated a Left" (vs. "Leans Left"), yet Fox News only a "Leans Right" (vs. "Right")?  Speaking of facts:  there is more journalism on CNN than Fox News. 
And it must have been a bad batch of lager or something that put the radical extremist Gunther Strobel on edge.  His responses to my "
Do You Love America?
" post were bracing, if not inflammatory.  The term "commie bastard" had not been used this often since the Nixon administration, and yes, there were even accusations of me wishing to indoctrinate children in my AOC/Lenin/Marxist ways.  Maybe a touch less vitriol in the next production run of ale?
Thank you to any one that is reading this blog.  For the record:  I am only hoping to encourage open dialog and have fun with this blog, not foment internecine warfare via text.  Jeez,
we even went to Maui together
.
KLUF

I appreciated the aforementioned Bodega Bay think tank resident Max Ryder reaching out for some KLUF love on the 4th.  While I repeated myself with him (suggesting The Beach Boys as ideal for the 4th), I won't with my thousands of other readers. 
Here
is the very American band The Doors, with their powerful eponymous debut.  Yes, break on through to the other side, America.  Please.
(Fun fact:  my old college roommate and eventual flyboy
Kurt Godwin
[real name] thought The Doors a better band than Rush.  That sounded as ridiculous then as it does now.)