If you've ever wanted to get out of the real life racket and step into a
Norman Rockwell
painting, I have your destination.  "Arcadian" is one word that comes to mind in trying to describe Woodstock, here in central Vermont. "Gorgeous" and "bucolic" are others.
Woodstock is set in a mountainous (for here) region, and it really ticks every box.  Historic village filled with useful and interesting shops, including
this
Killer
place?  Check.  A 700 acre National Park, with miles of perfectly groomed hiking trails (and no bikes allowed!), at your doorstep?  Check.  A working farm and museum, allowing one to get up close and personal with their favorite beast of burden?  Cluck.  I meant "check".
And a healthy dose of Rockefeller class and wealth thrown in for good measure.  Check and huh?
You see,
Laurance Rockefeller
, grandson of of
John D. Rockefeller
, and brother to
David
(headed Chase Manhattan Bank for years) and
Nelson
(governor of New York), married Mary Billings in 1934, herself also loaded and from a very prominent Manhattan family.  And her family had an immense mansion and farm in - wait for it - Woodstock, Vermont.   Laurance and Mary would come to spend many summers there.
Laurance - who was an environmentalist before the term existed, and instrumental in the creation of a number of National Parks, developed a deep affinity for the region.  So it came to pass that in 1992, he and Mary donated the mansion and its enormous grounds, and the working farm, to the National Park Service.
Those properties now comprise the
Marsh-Billings-Rockefeller National Historical Park
and the
Billings Farm & Museum
.
But wait, there's more.  We're staying at a hotel that Laurance Rockefeller himself developed and opened, as part of his storied
RockResorts
mini chain of environmentally-sensitive (but still very much Diamond Certified) hotels.  He built and opened The Mauna Kea on Hawaii Island, Caneel Bay in the US Virgin Islands, and The Dorado Beach Resort on Puerto Rico.  And yes, in 1969, he opened
The Woodstock Inn & Resort
.  50+ years later and now owned by the Rockefeller Foundation, it is absolutely still Diamond Certified.  Suffice to say, it's nice.  Super nice.  Here's a look at the front - and yes, you are correct it's fun to have cocktails out there before dinner.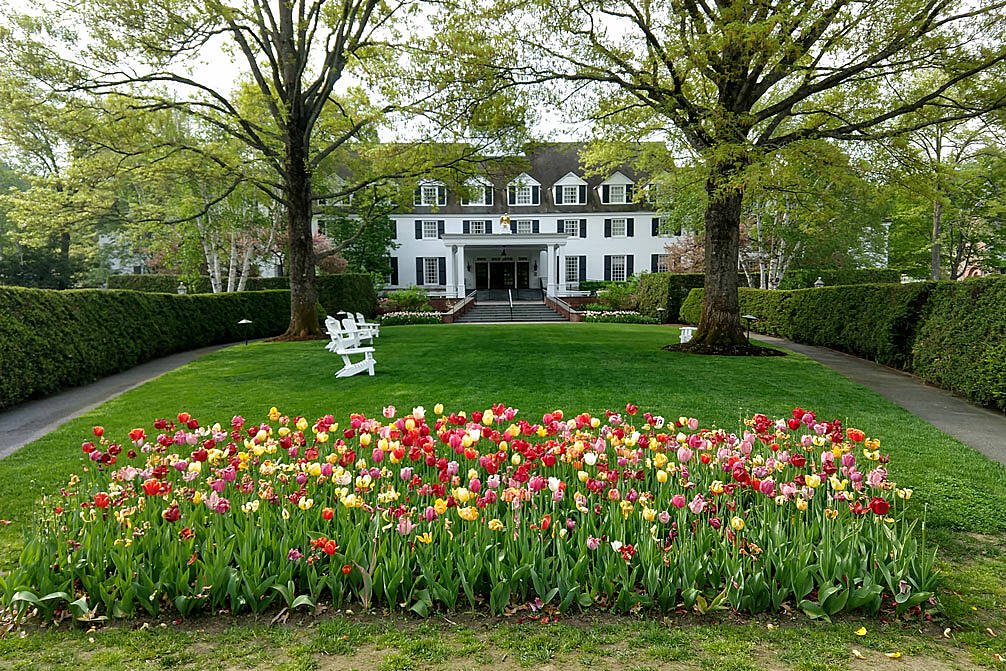 (In case that's not enough Laurance Rockefeller,
here's the book
I'm reading!  That'll be one each on Laurance and
Nelson
!)
As such, this travel guide will have little value to anyone that wants real detail on much beyond what it's like to stay at
The Woodstock Inn & Resort
("Vermont's Most Beautiful Address" and that's not crazy).  So in the words of Bob Pollard: 
I apologize in advance
. 
Because after 6 days and nights of a lot of activity
checking out Cape Cod
, when I parked the car at Woodstock Inn, I kind of knew that would be it for driving.  At least for the 4 nights of our stay.  And I was right. 
Don't get me wrong:  there's a ton of world-class hiking nearby.  And for those so inclined, a lot of road and mountain biking options, too.  Indeed - we averaged a good 6 miles or so of hiking each day.  But that's in the morning.
Because the hotel is the kind of place where you just kind of stroll from one cool spot on the property to the next, and you don't worry too much about ever leaving the grounds again once you've returned.  The Woodstock Inn & Resort is special enough to warrant two ratings.  It is both
Textbook
and Diamond Certified.
There are giant lawns with real-deal Adirondack chairs.  An equally real-deal library, and also
a fireplace in the lobby
not much smaller than
the optical illusion one
at Xanadu in "Citizen Kane". 
A lovely pool with outdoor seating and dining
.  A firepit that
we visited
each night.  A full-on game room, with authentic shuffle board and billiards, along with a ton of comfy chairs, flat screens for sports, and more fireplaces.  I could go on.  I especially like the no cash or signing or tipping thing at both the bar and the restaurants.  Give them a room number and that's it.  Yeah, they're trustworthy here in New England.
A typical day for us consisted of breakfast in our spacious
Tavern Porch Suite
, followed by hikes at the incredibly bucolic
Marsh-Billings-Rockefeller National Historic Park
and the literally pastoral
Billings Farm & Museum
.
Specifically, in the National Park, we had a nice day's hike up The Mountain Road to
The Pogue
(a beautiful pond set high on Mount Tom, with a mile loop around it, which we enjoyed) and then on to
the South Peak
of Mount Tom itself.  All told, if you do as we did, it adds up to about a 7 mile hike roundtrip from the hotel.  It's fairly steep but level going up, and very steep and very not level switchbacks going down - but doable by just about anyone that would consider a 7 mile hiking day doable.
On another day, we toured the very interesting exhibits at The Billings Farm & Museum, and then did a very enjoyable stroll through the pastures on
a 1.5 mile loop trail
they maintain on the grounds.  If you combine that with a stroll to just the mansion and its immediate surrounds in the National Park, you'll have another 5 miles or so under your belt.
Then? 
Dr. Coburn's Tonic
.  We had lunch 2 of the days we were there, and it would have been 3, but it's closed on Monday.  It's a great bar and restaurant a stone's throw from the hotel, and boy, was the vibe there good, and the food better.  Killer.  We enjoyed chunks of this year's PGA Championship from there, and it was super  fun. 
We'd typically then head home for maybe some reading or a nap.  We'd freshen up and be ready for a 5 - 6PM happy hour start followed by a 7PM dinner reservation each night.
After seeing the property upon checking in on Saturday, Julie and I agreed to stick with our plan to dine on-property each night, and wow, was that the right call.  Every evening, as the sun would be going down behind the mountains that surround the hotel, we'd begin by grabbing cocktails at the bar and then strolling here.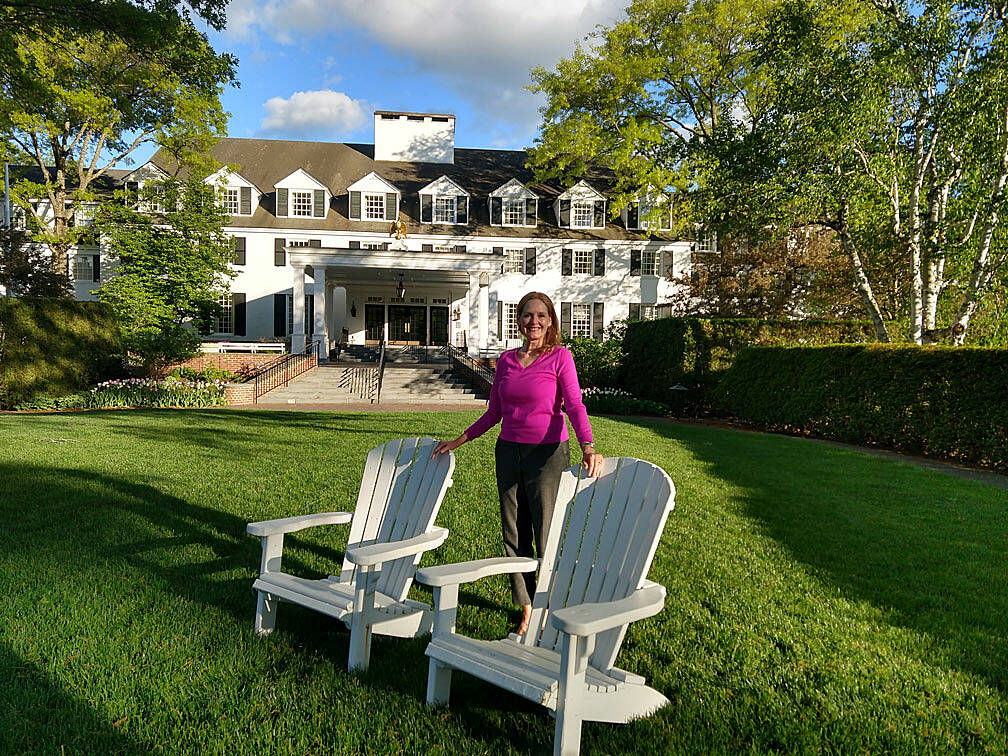 The dining itself?  Both
The Red Rooster
and
Richardson's Tavern
served food equal in quality, presentation, and style to any you'd have, gee, I don't know, anywhere else?  And the service matched - Anton, the 
Maître d'hôtel, who was seemingly everywhere, was as adept at sommelier duties as he was smoothing out a server going MIA prior to our seating one evening.  Both restaurants are world-class and certainly Diamond Certified.


That's really it.  We just chilled at the hotel and its immediate surroundings for 4 nights.  Sue me.  

So is Woodstock and The Woodstock Inn & Resort worth flying thousands of miles to visit on its own?  No, probably not.  But combined with really anything else in the region (Cape Cod and The Adirondacks come to mind!  But so does Boston and NY!), it most assuredly is.

Have a nice vacation.