TODAY'S RAMBLINGS
3 Minute Read

A global pandemic, and then an attempted coup here.  The first European ground war since World War II.  Now, runs on banks and a looming nuclear war with China over Taiwan?  BORING!  What's next - supply chain disruptions of Weissβier?
Sounds like a great weekend to hang around, and perhaps listen to great music.  If you agree, you're all set.
Because in case you haven't noticed, for the past two Fridays, I've been including ginormous playlists on
KLUF
that showcase my impeccable (at least according to Hunter Deuce) taste in music.  First, and for the 2nd anniversary of this blog, it was
KLUF:  Classic Rock
.  Last week, it was
KLUF:  Harder Rock
. 
Today, this entire post is about the next release,
KLUF:  Modern Rock
.  Because I really like this one, plus, I'll use the opportunity to tell a story or seven. 
In fact, I'm enjoying the whole monster playlist thing so much I was motivated to create a new logo for the radio station.  Thank you, Stable Diffusion and DreamStudio!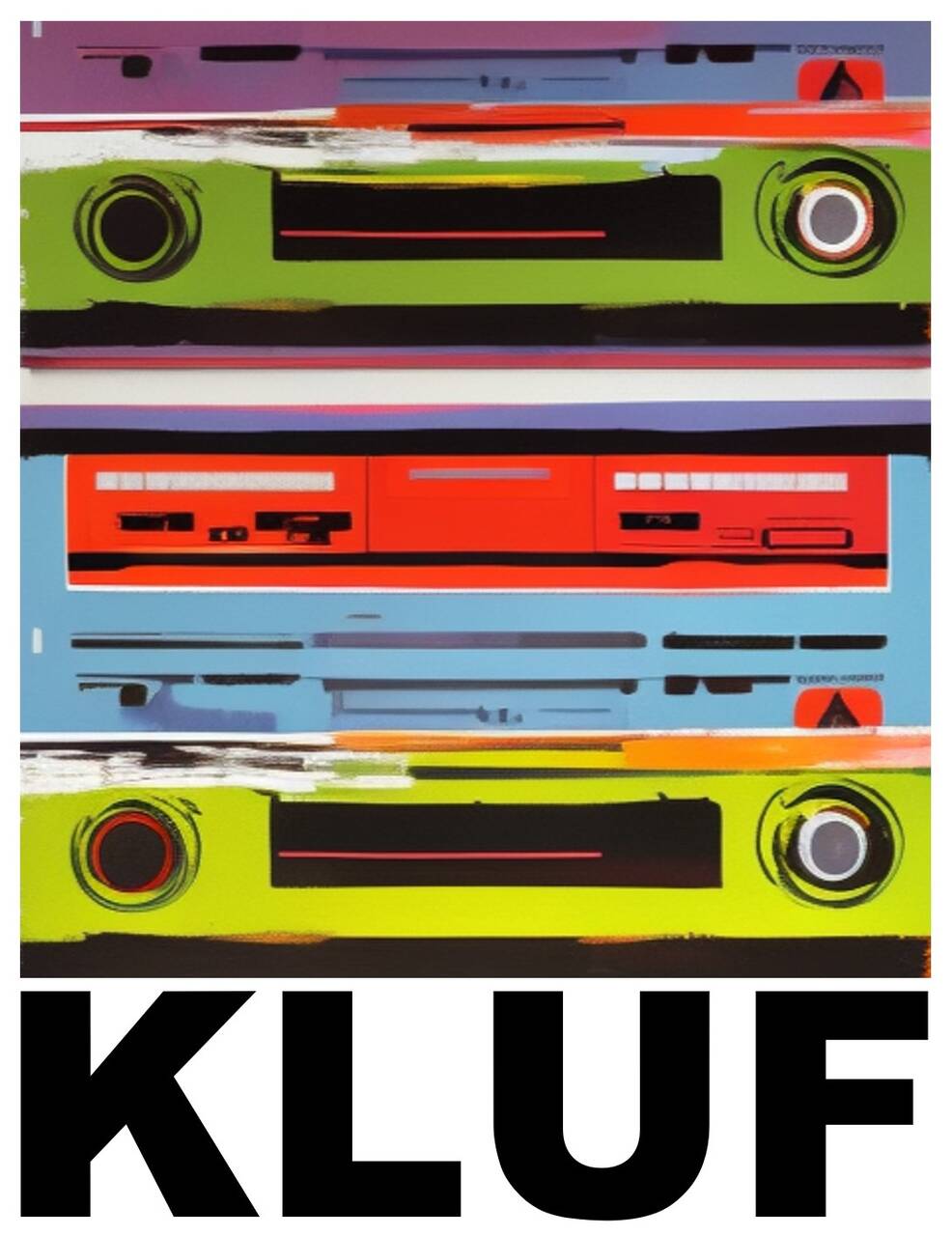 Yes, I agree it would make
a great t-shirt
.
But I digress:  like the others,
KLUF:  Modern Rock
is - of course -
Diamond Certified
.  This one has over 1,000 songs and can play nonstop without repeating a song for almost 3 days.  And its precise curation reflects the fact that I've been listening to this type of music my entire adult life.
A question many (OK, none) have asked:  "Oh, Portico - please share how you work your magic, and give us these huge and masterful playlists on both TIDAL and Spotify?"
Well, it's been a multi-year project, but it all relies upon my use (and pretty much total adoration) of my music system at home,
Roon
.  I've brought it up here previously, and while it's not right for everyone, if you're a music freakazoid like me, it's the platform of choice.
Anyhow, over the past few years, mostly in retirement, and all in Roon, I've tagged my favorite tracks on the albums I care about among the 2,485 (containing 37,281 tracks) currently in my collection.  Next, I tagged the 851 artists that made those albums with "Classic Rock", "Harder Rock", and "Modern Rock".  That's where it begins.
I can then automatically build large playlists in Roon, and it has a feature that allows me to export a given playlist's contents to a file readable by the secret sauce in all of this, a website called
SoundIz
.  This service allows one to essentially do anything you want with music from various platforms (especially if you pay $36/year). 
So, I can import the contents of my Roon playlists, and then have SoundIz build the same playlist at TIDAL, Spotify, and many others that I don't care about.  It can also move libraries to different platforms - great for dumping Apple Music and going to a real music streaming service like TIDAL or Qobuz.
Voila - massive playlists, sliced and diced by the whims of yours truly.  And that brings us to
KLUF:  Modern Rock
.  Yes, finally, Byron Browne IV.
First, to give you a feel for its contents, here's a word cloud.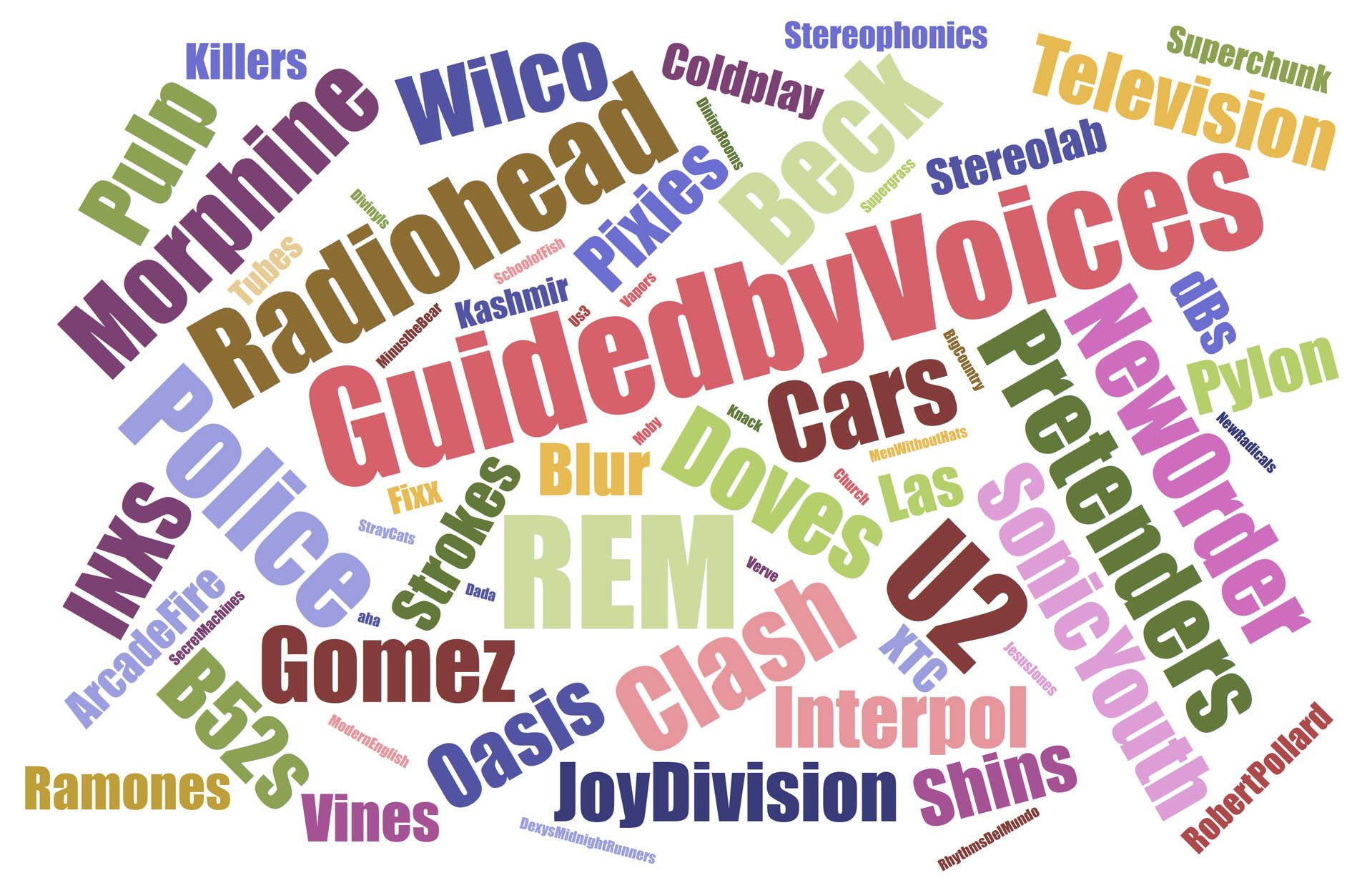 A note to the rather precise Primo Harvey, PhD.:  not every artist in the playlist can fit into a reasonably-sized word cloud.  So of course there's a searchable/sortable table with its complete contents, right
here
. 
Here are some further observations on this monstrosity. 
Here are the artists on Heavy Rotation in the playlist (defined as 15 or more songs, or about the length of a traditional album); some - sadly - don't make the cut:

Guided by Voices (shocker):  96 tracks
R.E.M.:  90 tracks
U2:  49 tracks
Radiohead:  38 tracks
The Police:  35 tracks
Talking Heads:  34 tracks
Beck:  33 tracks
The Replacements:  30 tracks
The Clash:  24 tracks
Elvis Costello:  24 tracks
Apples in Stereo:  22 tracks
The Cars:  19 tracks
Morphine:  19 tracks
The Pretenders:  19 tracks
New Order:  18 tracks
Gomez:  17 tracks
Doves:  16 tracks
Roxy Music:  16 tracks
Tame Impala:  16 tracks
Wilco:  13 tracks
One band certainly on the playlist but not in the word cloud is My Morning Jacket.  The story here is the New Year's Eve show on December 31, 2006; some reading this were there with me and will recall this incredible night (my personal best NYE of them all).  We began with Textbook cocktails and a fine meal at Balboa, and then went to the show.  Which, of course, was at The Fillmore.  Their last song of the night, right around midnight, was a cover of Led Zep's Stairway to Heaven.  Yeah, it was pretty fucking amazing.
Let's stay at The Fillmore and turn to one of my many obsessions, Guided by Voices.  Their misnamed "Farewell Tour" on November 13, 2004, was the third best for me of any I've seen at that historic venue.  It follows Foo Fighters (March 21, 2000, on the There is Nothing Left to Lose tour), and the aforementioned MMJ lovefest.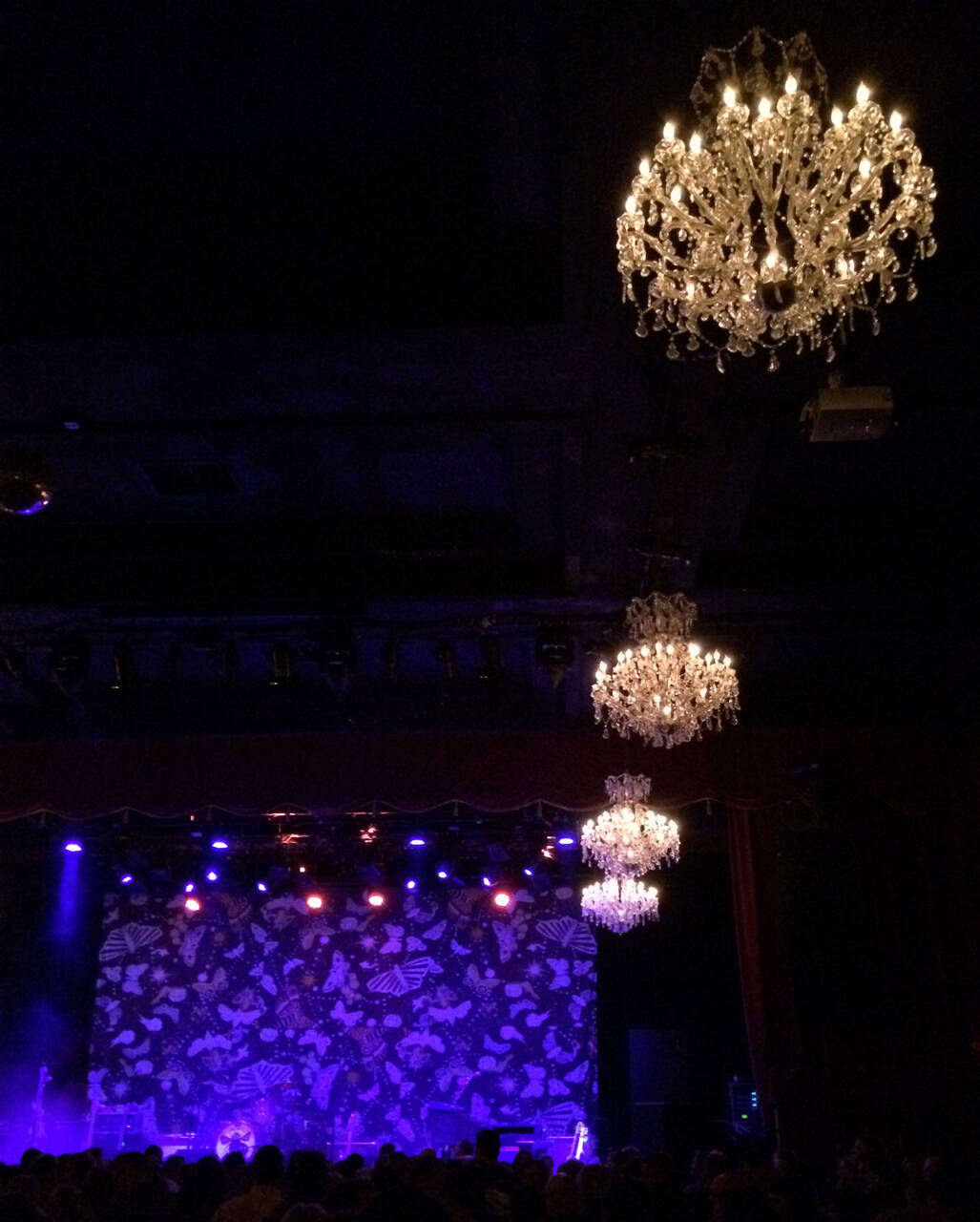 I make no apologies for the volume of R.E.M. songs; they were a huge band for me from 1984 well into the late 1990s.  The sheer number of great songs they made should impress anybody.
This playlist contains my single favorite cover song of all time:  Green Day, and their exactly perfect rendition of The Kinks' Tired of Waiting for You.  If you're not familiar, give it a go - it might just become your favorite cover tune, too.
Don't miss the tracks by foundational bands like Television, Pylon, The dB's, and The La's.  
Nor my Beastie Boys selection - it's not what you're expecting, and you may not even know they made music like this.
And yes, there are again some one hit wonders sprinkled among the heavyweights to keep it interesting.
With the humility that is my hallmark, I challenge any reader to find fault with my R.E.M. (as above), Talking Heads, Police, Radiohead or U2 selections.  And if you think you're up to it, have a go at my titanic curation of GBV's best.
Despite me dumping on Apple Music, that service still has a more complete collection of Cracker, The Fixx, and The Jesus and Mary Chain than TIDAL.  So there's that, and that's why you will find a few otherwise required songs missing. 
One more complaint:  I can't use my own music files in cases where what I have is superior.  Go listen to what's playing on KLUF today to see what I mean.
I hope you enjoy listening to this as much as I enjoyed putting it together.  Have a great weekend.
FROM THE UNWASHED MASSES
Speaking of Hunter Deuce (and really, aren't we always when it comes to THE UNWASHED MASSES?), he added some desperately needed background on the story of the Get Lucky Loverboy album cover.  Said absolutely no one.


 Weird story about the album cover:

Get Lucky Album Cover

And as her Uncle Portico, I was beaming to see I made a difference in the oral hygiene of our niece, the ski boarding terror Nicki Vale.  Heck, the marketing maven even signed off on the brand!


**adds Gumchucks to cart 😂

What a great name by the way!

Thank you to any one that is reading this newsletter.


KLUF
While The Police's debut album, Outlandos D'Amour, is certainly good enough, even it pales in comparison to the live versions of the same songs as they performed them then.  I happen to have a bootleg of a concert they put on at a university in England, on February 21, 1979 - which I can't use in the playlist.  So - horrors -
KLUF:  Modern Rock
has "only" the studio versions of the many great songs from that album.
As revenge, I've put the show in a shared folder, where you can play the concert directly, or download to keep for yourself. 
Here
, for the first time on
KLUF
, are The Police - as they are meant to be. 
Wow - listen, and you'll understand why I like to say:  there's a reason they became
The Police
.