(Editor's Note:  by now, I hope you know the drill.  There are a lot of photos, so if you have any trouble, you can view the post in a browser
here
.)
OVERVIEW
This borders on being just a Micro Travel Guide, as we were here for only a short time.  But we were impressed enough by Innsbruck that I felt it deserves some attention.  This is not an in-depth thing, but more of what you'd need to know for a 2 - 3 night stay.
There is both a meaningful international airport and wide-ranging rail service.  We arrived by train from Bolzano (a two hour nightmare that I may write about soon - it seems funny now, but it was awful as it was happening).
Innsbruck
is located in western Austria, and it is gorgeous - in two ways.  First, it is smack-dab in the middle of the Tyrolean Alps.  I mean that - there are towering peaks in every direction - and boy, are they close.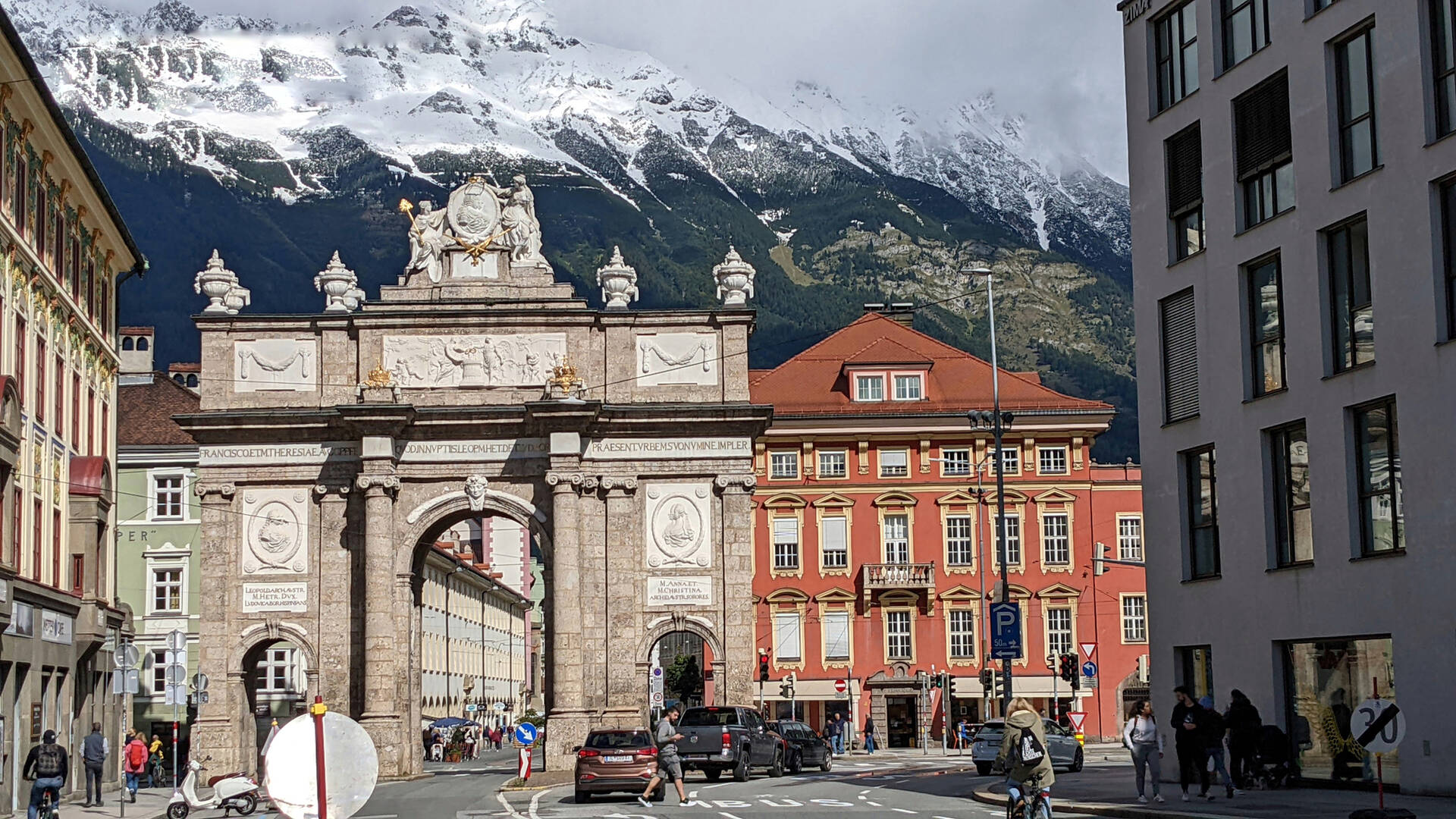 And it is gorgeous from the perspective of it having the feel of an absolutely
Textbook
European city.  Not too small, not too big, with lots and lots of narrow alleys and classic buildings.  We really enjoyed it, and we see this now as our go-to gateway for all things Dolomites and Lake Garda.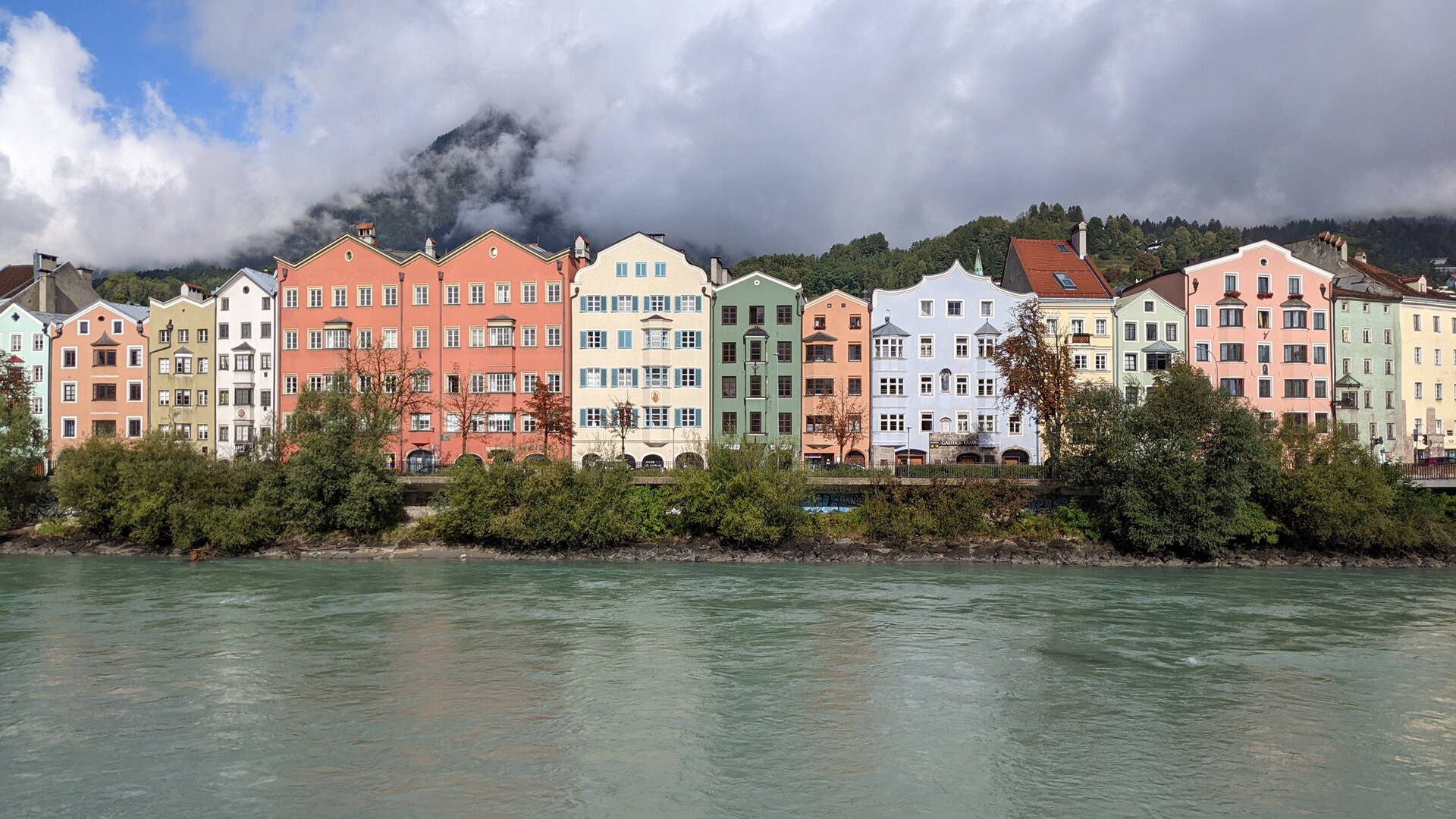 Touristy?  Somewhat, and it's probably far worse at the height of summer or ski season.  But it's a college town, and it mostly felt quite authentic at the places we visited.
LODGING
This is a tough one.  First and foremost, after
Hotel Val di Sogno
and (of course)
Adler Mountain Lodge
, virtually anything is going to pale in comparison.  Our pick,
The Adlers Hotel Innsbruck
, certainly is not in the same league as those, but it had its high points, but sadly, some real low points.
(An important note:  despite the similarity, there is no connection whatsoever between my fave Adler Resorts and this Adlers Hotel.  For the record, "Adler" is a German word that means "eagle".)
We found its location ideal.  It is a 5 minute walk from the central Innsbruck train station, and also in a great spot for exploring where you want to go in town.  The hotel itself is on the top 5 floors of a modern 12 story tower.  Our "Panorama Deluxe" room was huge with mind-blowing views from the bedroom and bathroom.  And yes, the windows are clean, and yes, that's a real photo from our last morning - that guy is 11 floors up.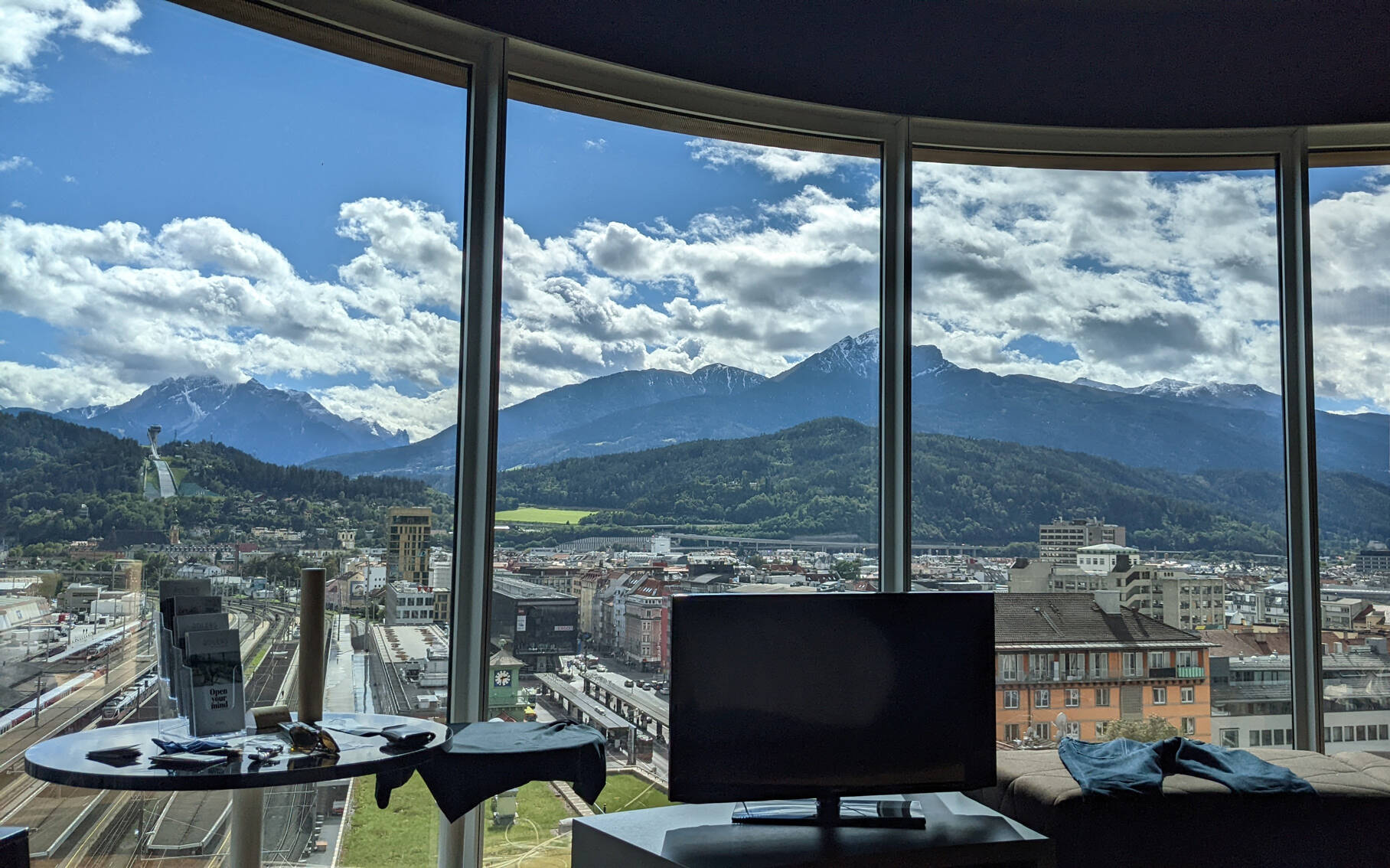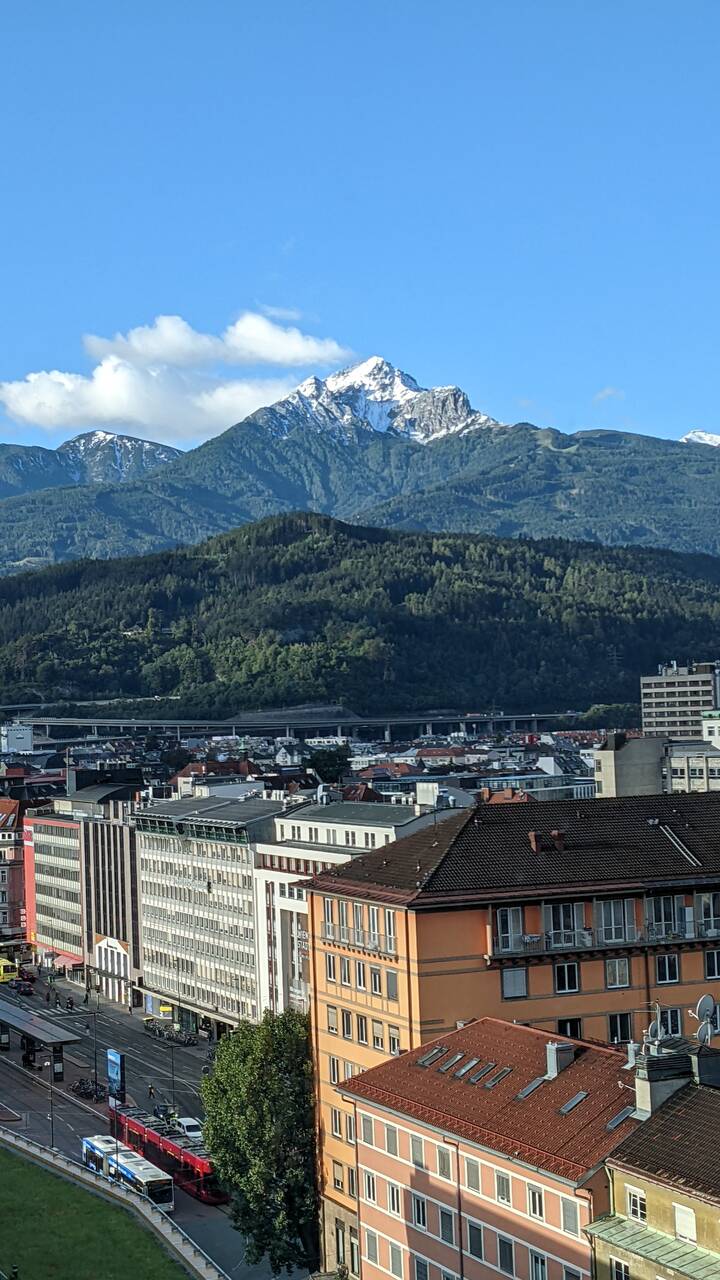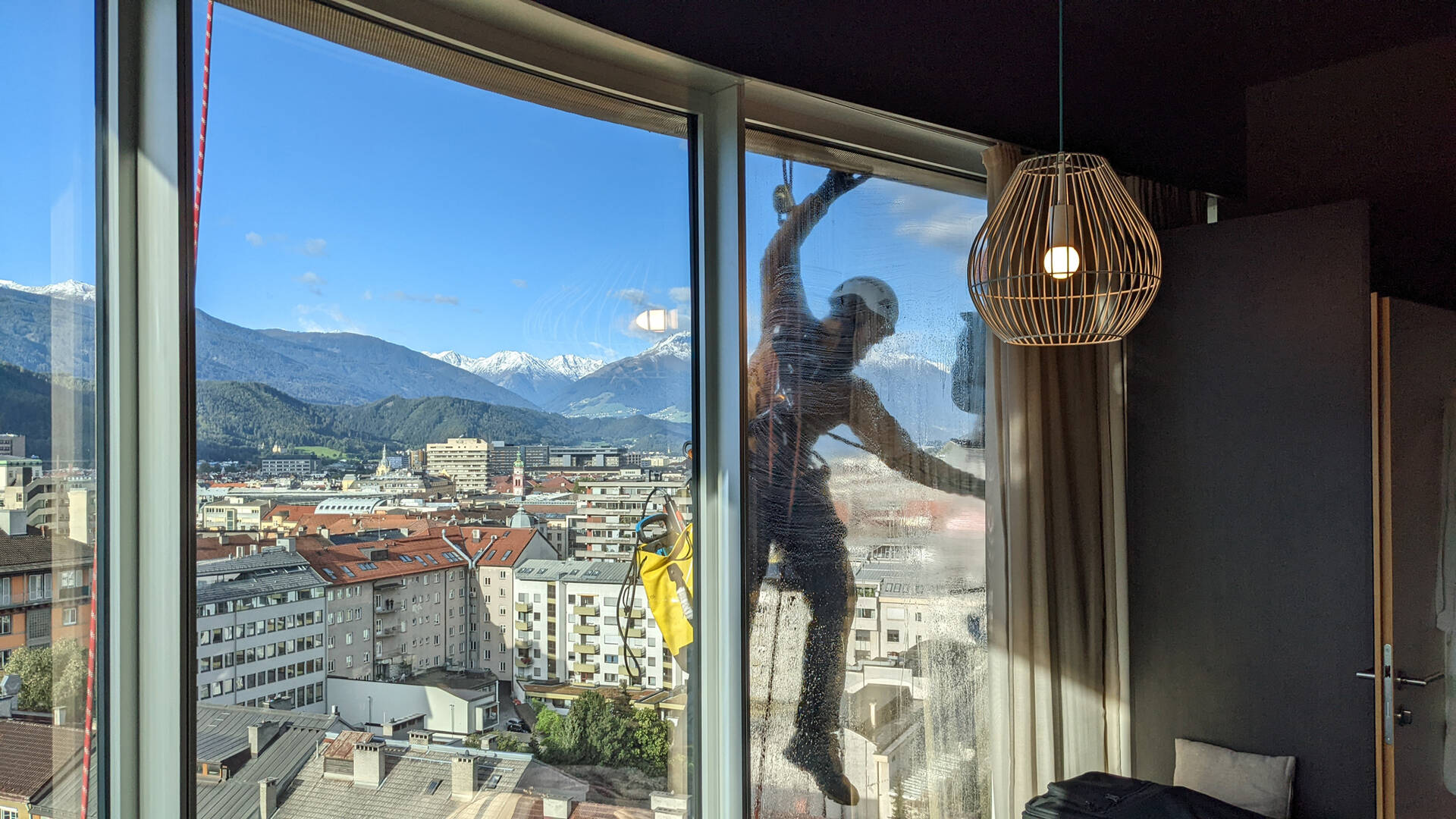 The room itself was seemingly well-equipped, but over time, it was obvious no one is really paying attention or knows what a real city-center hotel should be:
The restaurant is closed on Sundays and Mondays - in a hotel? 
Despite a decent-looking spa, the room had no robes or slippers, nor anything similar in the spa itself - what would one wear?
Several things in the room were non-op:  the trick integrated bidet in the toilet, nor the heated floors were working - and the glass sign with instructions for the former was cracked - in a bathroom
The sheets, while clean and nice enough, had a couple of stains?  Yuck - the stains weren't fresh, but still
After the maid cleaned our room, we still found crumbs in various locations on the floor

Yeah, I know:  first-world problems.  But at $300/night, maybe just a scooch more attention to detail is to be expected?

The worst was the non-service in the otherwise spectacular rooftop bar.  It bordered on comical how bad it was, and got to the point I said something on my second visit.  It was understaffed, and the two people that were working seemed more attuned to the tables full of co-eds and other assorted young Austro-babes vs. old cranks like us.  But we were guests in the hotel!  


All of these things took their toll:  I can only give Adlers Hotel Innsbruck a rating of Serviceable.  Recommended?  I am torn - I'd say yes, if you're aware it might not be perfect.  But we also didn't research any other hotels, as this appeared it would meet our needs.  Which it mostly did.

THE GREAT OUTDOORS
It's an outdoor paradise - but I am only speculating, as we had only one full day here, and that was spent touring the urban core.  Suffice to say if you want to hike, bike, or do any kind of winter activity, it's all here, and in a glorious alpine setting.  

Remember, the Winter Olympics have been held here twice, in 1964 and then again in 1976.  Innsbruck joins St. Moritz and Lake Placid as the only places to have held two winter games, and here's a fun fact:  they were held here in 1976 only because Colorado voters failed to approve a bond measure funding the games in Denver, which was awarded the 1976 games in 1970.  If you look closely at my room photo above, you can see the ski jumps, which are still active and functional.

EATING/DRINKING
Well, yes, thank you very much.  This is the place for hearty Austrian (OK, it's a lot like German) food, and equally wonderful beers - and yes, plenty of my beloved weissbier is on offer everywhere.  But we also enjoyed a Viennese pinot noir that was world-class.  Quality was high everywhere.
Innsbruck felt very safe, with very few homeless, but wow, do they like to fucking smoke cigarettes here!  But only outdoors, of course.   
Here's where we visited.  Sad but true:  our only bad experience was at our own hotel. And as always, I provide links when they're available.
Stiftskellar
Textbook

This is just a flat-out old school beer and Austrian food kind of place - which we loved on our first night in town.  Pro Tip:  don't waste time like we did looking for a host/ess to seat you - there isn't one.  Just grab any open table and get rolling.
Aydin Bäckerei
Killer
This was our go to for morning coffee and pastries, and afternoon espressos.  Nice and trick, but real, too.
Restaurant Il Gusto da Leonardo

Textbook

We stopped here simply to rest our feet and have a couple of quick cold ones, on one of the cool avenues, Maria-Theresien-Straße.  But it turned out the owner is really Italian (also, super friendly, and while we did not eat here, the deli could have been in North Beach.  Or Rome.
Gasthaus Steneck
Textbook

We had a lunch outside here, and while it doesn't look like much (we're talking picnic tables), Julie's speck dumpling soup was as good as any we had on the trip, and the Weiner schnitzel was spot-on.  And yeah, the Paulaner Weissbier was just fine, too.
Dunlin Bar
Diamond Certified

Jeez, what a fantastic place.  First-class cocktails.  We were welcomed as locals, and it is a modern, beautiful bar - and a nice small size.  We started our last night here and will again when we return.  Try the Pisco Negroni!
L'Osteria
Killer
OK, it's part of a big chain, and we only had cocktails here.  But it's a very nice bar with a good, modern atmosphere.  Sue me.  We'd probably entertain having pizza here if we grew tired of local cuisine.
Cafe Restaurant Dengg
Diamond Certified

Screw modesty.  The fact is, Julie and I have a knack for sniffing/stumbling upon just the right places, at least sometimes.  This was it.  We saw it our first night, decided it had the right vibe, and we made a reservation during the day for dinner.  Would you doubt this girl?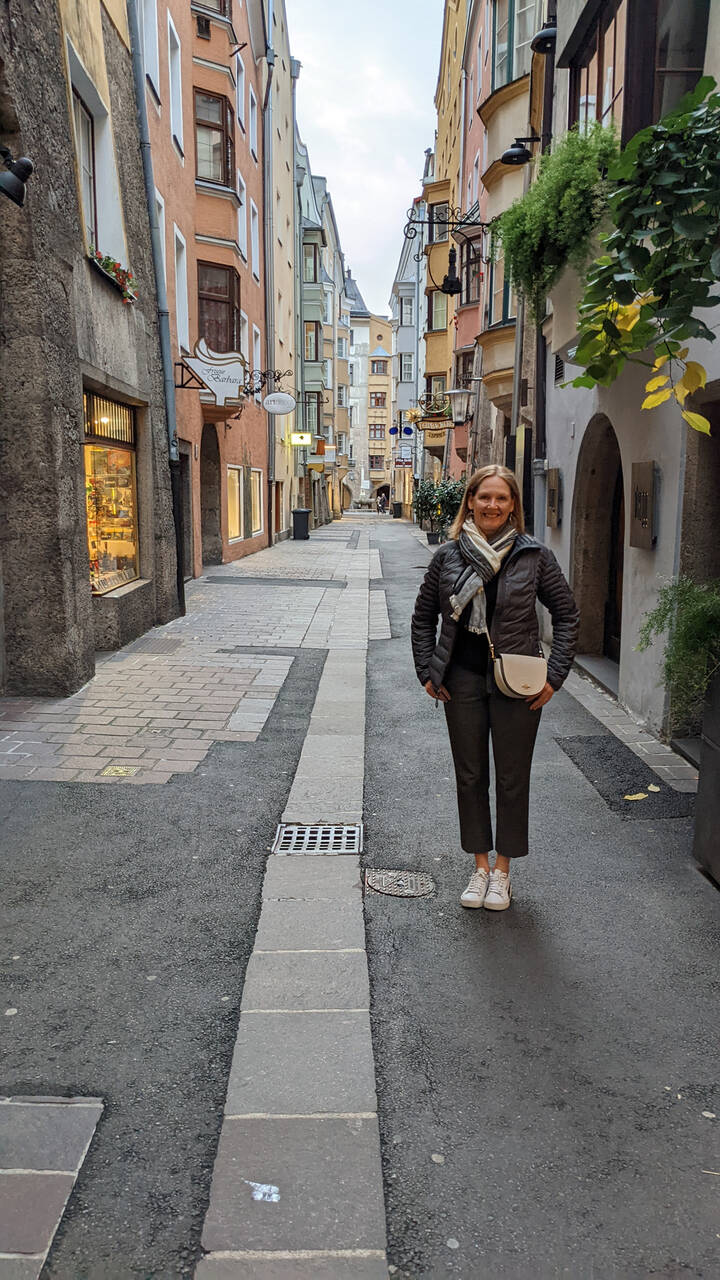 It would have been a great experience in SF, but of course it was better, because it was Innsbruck and not home.  We had a Viennese pinot noir that was as good as any from home or France.  Highly recommended for a nice but not ridiculous dinner out.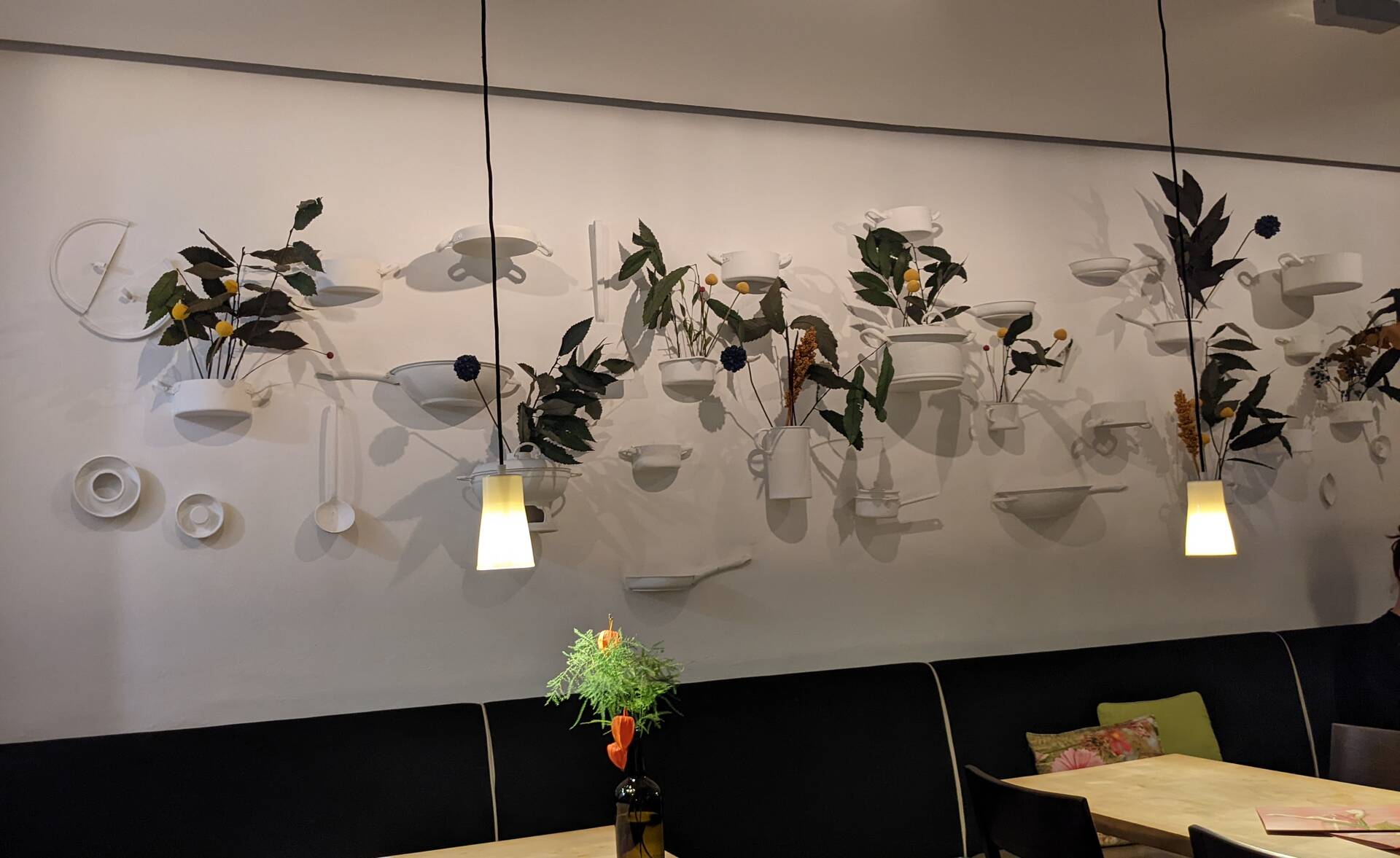 MUSEUMS/GALLERIES/PERFORMANCE ART
We were limited by both time, and the fact that our only full day was a Monday, and the big one or two museums were closed.  I will say that the main art museum,
Tiroler Landesmuseum Ferdinandeum
, looked quite impressive.  
One place we did get to visit, inside as well as outside, was a church, Servite Church of St. Joseph.  Yes, devout atheist that I am, I still have an appreciation for the nutty craftsmanship that goes into these places.  It did not disappoint.
SHOPPING  
LOL - we did.  I lost my belt in the frenzy of trying to catch our flight to Milan from Lisbon, so we stopped in a couple of places.  While they did not have a belt I liked in my size, we thought the men's and women's collection at
Kleider Bauer
kicked ass.  For the record, we also stumbled into some kind of crazy place.  The kind clerk showed me a Prada belt.  It was 550 EUR.  I made her laugh when I feigned shock and said I needed a glass of water.  I was torn, but I passed on buying the belt.
POSTSCRIPT
We concluded our gonzo almost 3 week vaykay with something we are really sold on:  staying in a nice hotel at our departing airport, the night before our flight home.  This time it was Munchen-Flaghafen and the
Hilton Munich Airport
.  Holy shit - OK, it's hard to get excited about an airport hotel, unless it's
this
- or the Hilton Munich Airport.  Amazing room.  Great bar.  And get this:  its restaurant has one Michelin star.  It's almost like back in my day, when staying at a Hilton was a big deal.  The place is easily Diamond Certified.
It was a perfect ending, and set us up very nicely for our 7AM departure for LHR and then SFO.   Thank you for reading about all of it.  Milan.  Lake Garda.  Dolomites.  Innsbruck.  Ask me about this photo some day to find out how lucky we all are.  It is not what you think, I assure you . . .