TODAY'S RAMBLINGS

From the serious to the ridiculous.  Today, we'll turn away from my usual
sturm und drang
regarding our country's state of affairs and steer towards the fun and the light.
Very fun and very light because it can't be much more of either when the topic is the 2021 Darwin Awards.  Here are the people, places and things vying for a Portico.  

Airbnb, Etc. Of The Year Nominees

While the pandemic had an impact on just about everything, one thing it cemented for us was our preference for a
Textbook
, Killer, and/or Diamond Certified place to call our very own.   Here are the private homes and condos we rented that wowed us this year.

Hotel Of The Year Nominees
The above notwithstanding, a fine hotel still makes me very, very happy.  Here are 5 that did at least that.



Car Of The Year Nominees
I drove or otherwise spent extensive time in these fine (and other!) rides in the past year.


2019 Range Rover Evoque (Highlands Ranch Resort, Mineral, CA)
2020 Lexus LC500 Convertible (Cavallo Point Hotel)
Late Model Buick Envision (Dr. Davis Fladgate, Southern NM/West TX)
C4 Chevrolet Corvette (Andy Jones, Oceanside)
300K Mile Acura 3.0CL (Biff Fladgate, Santa Fe)

National Park Of The Year Nominees
Amongst the more hotly contested subjects of the year, at least for one or two of us.  Here are the nominees.


We can now also put a bow on the 2021 National Park Showdown.  A big thanks to all of the participants - all two of us.  The fact is, it ended in a tie, at least if one magnanimously counts Sequoia & Kings Canyon National Parks as two parks. 
Which it isn't
.  But no matter:  I just donated $50 to givewell.org's
Maximum Impact Fund
which seemed like a nice compromise.  Perhaps they even give money to Croatian national park conservancies?
Interested in how all of this Park Contest nonsense was tabulated?  Perhaps consider getting a life.  But just in case, here it is:  The 2021 National Park Showdown Official Scoreboard.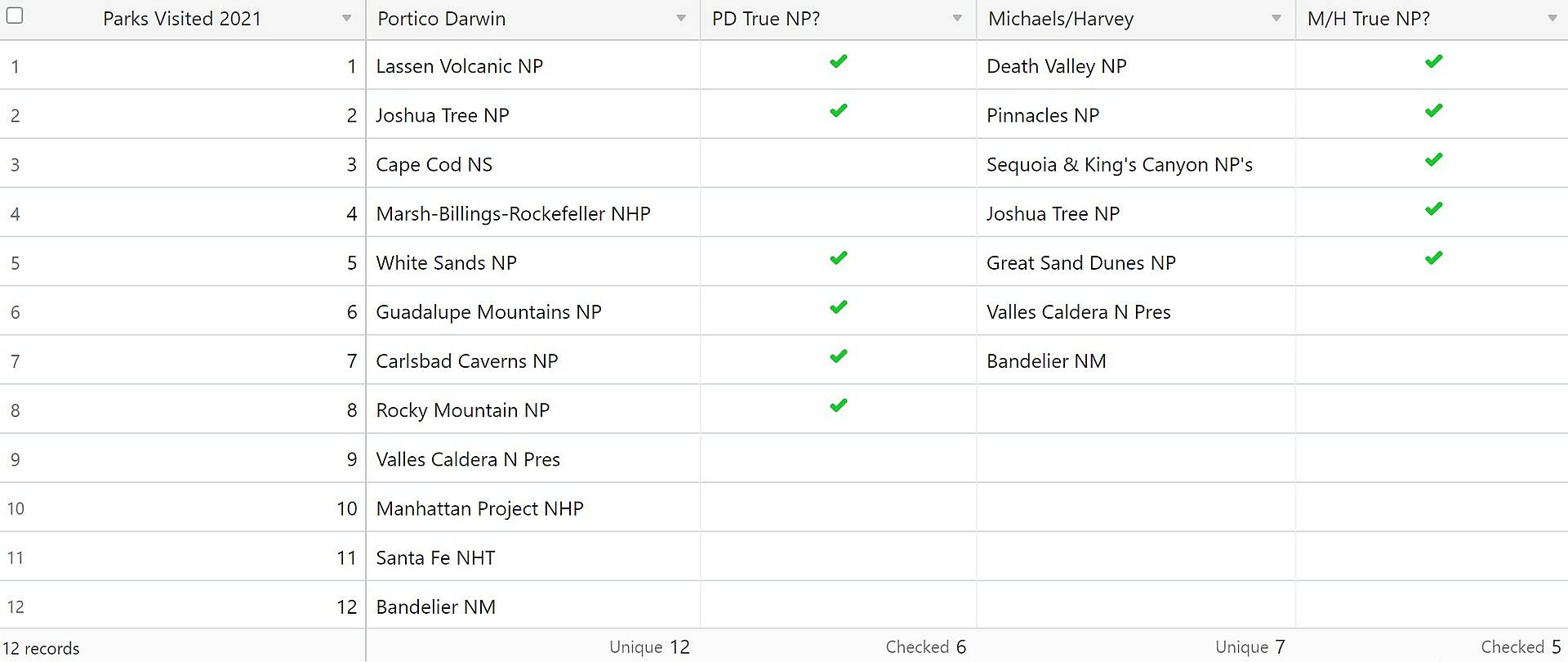 Restaurant Meal Of The Year Nominees
Food.  Service.  Ambience.  Intangibles.  This will come down to the wire, and some SoCal places may be added, not to mention Garibaldi's on Thanksgiving.



TV Show Of The Year Nominees

We are living in a special time when it comes to TV and everything about it.  When one can stream any episode of
The Dick Van Dyke Show
at one's leisure, you know we've arrived at a special place.  But I don't watch all that much TV, as you can probably tell from this list of what I
do
watch.
White Lotus, HBO
Independent Lens, PBS
Real Time with Bill Maher, HBO
Succession, HBO
GPS with Fareed Zacharia, CNN
Movie Of The Year Nominees

The fact is, I see very few/almost no movies in theaters at this point.  And I only saw two of these, as I was too busy at home screening
North by Northwest
for the 1,293rd time.
No Time to Die
Dune
Songs For While I'm Away

Album Of The Year Nominees
These are all great - be sure to check out the Dinosaur Jr album if you haven't already.  The last two albums, both worthy of this list, were actually released very late in 2020.  I included them because I can.


My Morning Jacket, My Morning Jacket
When You See Yourself, Kings of Leon
Sweep It Into Space, Dinosaur Jr
Power Up, AC/DC
III, Paul McCartney

Song Of The Year Nominees
Only the last is new(-ish), but I don't care.  These songs got a lot of airplay in my world this year. 



Trip Of The Year Nominees

Rookie Of The Year Nominees
This year brought some new players on to the scene.  Who will clutch the Portico in their tiny little hands/paws?


Louie the Puppy (Andrew Whistler and Laura Gonzalez)
Jaxson the Baby (Andy Jones and Libby Baines Jones)
Brutus the Puppy (Kevin Monza)
Charlie & Posey the Kittens (Professor Howard Blum Esq.)
It's still not too late to submit your own nominees (or even entirely new categories)!  Just hit reply and I'll include all but the most ridiculous suggestions.  As always, however, my decisions on what's in or out will be final, while also capricious and completely arbitrary.  For one thing, I had to have been there or otherwise know about it.  Unpronounceable national parks of the former Yugoslavia - that I have not visited - need not apply, for example.  But that ship has sailed, at least for those of us not on bikes.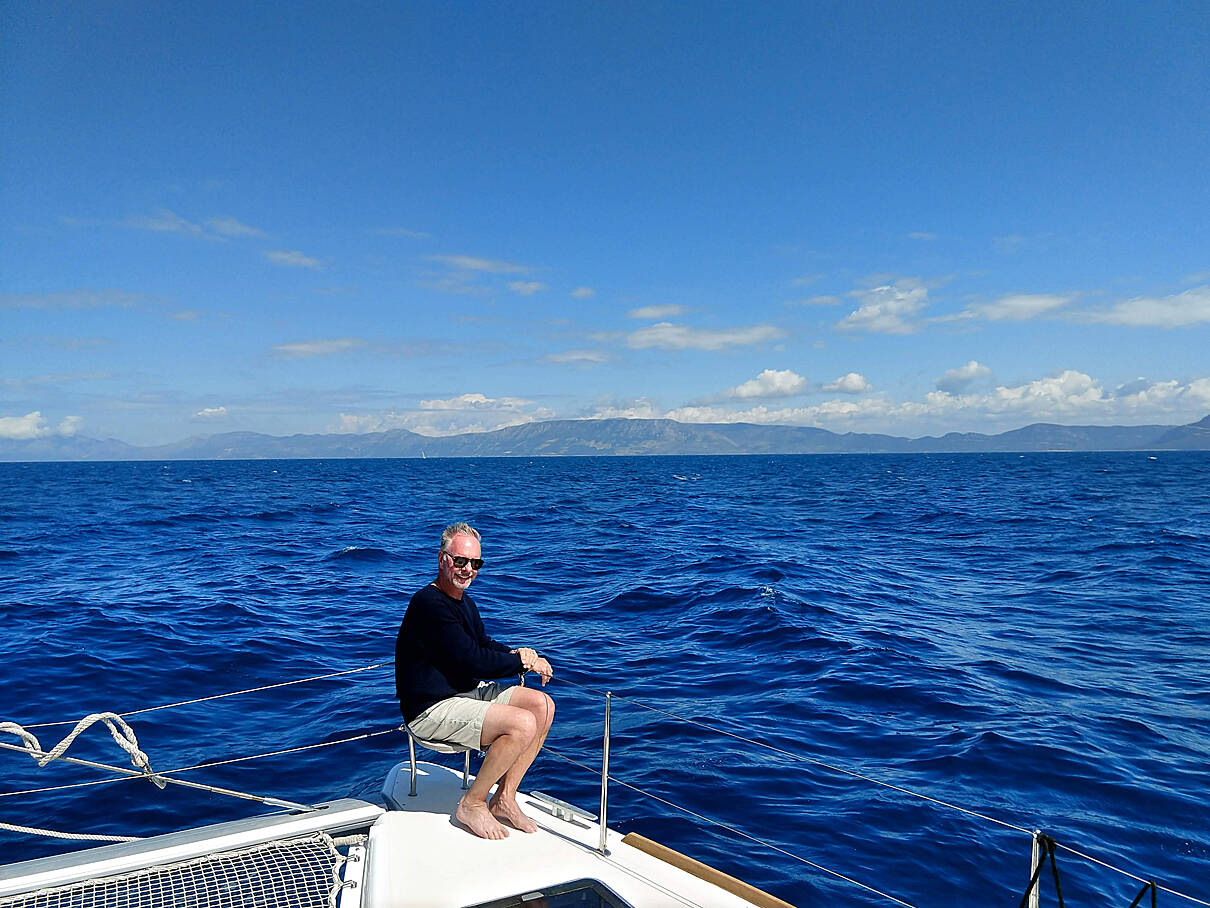 I hope to be announcing the time and place for the gala award ceremony event very soon, but the smart money is on Saturday, January 8th, perhaps starting in the late afternoon, before sunset.

FROM THE UNWASHED MASSES

An avid reader, who shall remain nameless this time, found my morning jacket (which he incorrectly deemed "a dressing gown") not particularly to his liking.  He sent along
this
, which I assume represents his reaction.  Frankly, I think it's jealousy.  
Thank you to any one that is reading this newsletter.


KLUF

A nice band with a nice title for a greatest hits collection, and of course, perfect for today's topic.  Here is the sweet-sounding World Party and "
Best In Show
".  But while it's a good collection, they left off this Killer song, "
Sunshine
", which I've kindly included so you really have their best.